Police Investigate Berkshire Cold Case
17 July 2013, 06:00
Thames Valley Police is trying to identify a man whose body was found in the River Thames in Windsor in 1990.
An artist's impression of the man (pictured), drawn from forensic photographs, shows what he may have looked like when alive.
He is white, around 30 years old, about 6ft, with dark brown curly hair and a thin pencil moustache. He was wearing a BHS grey hooded anorak, a BHS blue jumper, Nico pink sports t-shirt and blue denim jeans.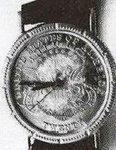 Most notably his was wearing a gent's wrist watch with a face formed from a USA twenty cent/dollar face (actual watch pictured).
In his possession, the man had a betting slip for a £10 win on Midnight Court in the 1.15pm race at Newbury, issued at 11.05am on 24 February 1990 at the Clock Tower Betting Office in Duke Street, Brighton.
Police believe he may have known people in the Brighton area.
Renewed police activity to find the identity of this man is solely in the hope of being able to let his family and friends know what happened to him.
The case is part of Operation Nightingale, which was started to identify eight unrelated cases of bodies from fatal incidents that remain unidentified across the Thames Valley, dating back to the 1970s.
The cold cases, which cover Berkshire East, Berkshire West, Buckinghamshire and Oxfordshire remain unresolved with the victim's identity yet to be ascertained.