Supporting Swings & Smiles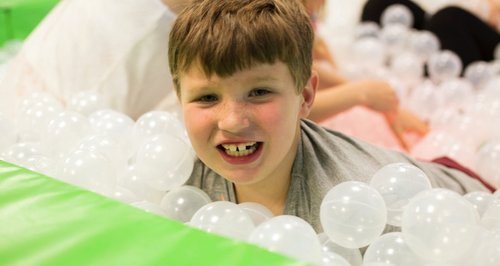 Projects Global's Make Some Noise supports in the Thames Valley deliver life changing work and help to give children a brighter future. Projects like Swings and Smiles.
Having a child with special needs can be challenging and isolating, Swings and Smiles provide a play facility where the whole family can play together, which is something most families take for granted. Make Some Noise will help deliver an eight week course of music and art based workshops, with a final performance in the theatre for the children to proudly show off their talents.
Jonny has Autism and sensory processing disorder, so playing with brother Dan wasn't possible until they came to Swings and Smiles. The whole family enjoys relaxing in the sensory room, cooking up a storm in the kitchen and getting crafty in the arts area. Both the boys enjoy crashing about together in the soft play room. Mum couldn't be more thrilled, "It's lovely for them to have somewhere to play together. I'm so grateful for somewhere safe that my boys can come and play."
Dan sometimes has to help Jonny beyond a usual sibling relationship, so the workshops you can help Make Some Noise provide will create a fantastic opportunity for them to just be brothers together.