Newton Abbot: 2,000 Year Old Potholes Found
21 July 2014, 10:18 | Updated: 21 July 2014, 10:28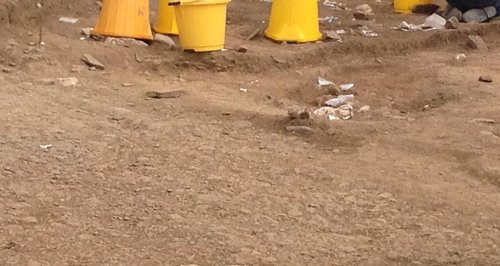 Evidence of some of the oldest potholes in the world have been found in a field in Ipplepen.
An archaeological dig has also found a Roman Road, the first EVER west of Exeter.
The site near Newton Abbot found wheel ruts - like those found in Pompeii caused by carts being driven over them.
The 'snapshot' of life from 2,000 years ago has caused much excitement among the team of diggers, so have newly discovered personal items like a Roman hair pin, brooch and braclet which are equally thrilling.
It also, shows how counterfeit goods where present in everyday life.
In an ancient version of 'come dine with me', people inviting friends around for dinner used fake pots to try and impress their neighbours.
You can go to Ipplepen Methodist Church to see pictures and diagrams of the dig.
The archaeology information point at the Hub will continue to be open on Mondays- Fridays from 10am - 4.30 until July 31.