Teignmouth: VIDEO Runaway Boat Lassoed
28 May 2014, 09:26 | Updated: 28 May 2014, 09:28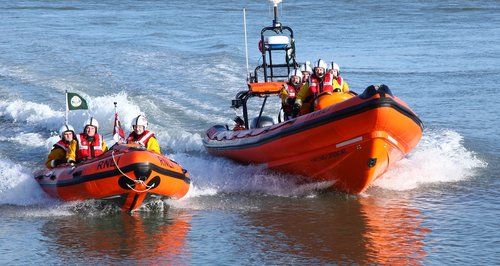 The dramatic moment a Dev lifeboat crew stopped a runaway speedboat by lassoing it - with a perfect rodeo-style throw.
66 year old Peter Channing, fell into the sea and had already taken off his kill chord.
With the engine still running, the six-metre speedboat, began to circle.
But before Peter came to similar harm, onlookers threw him a line and pulled him to the safety of the dock.
An RNLI lifeboat arrived on scene to find the boat circling the bay and crashing into other vessels.
Helmsman Giles Squirrel pulled up as close as possible while crewmembers Adam Truhol and Jim Cassidy had a rope at the ready.
Video of the incident shows the pair lassoing the unnamed vessel at their first attempt before cutting the engine.
Peter, of Teignmouth, was unhurt but his boat was written off.
Nick Milligan and his wife Victoria had similarly taken off their kill cord when they thrown overboard attempting a tight turn in Cornwall's Camel Estuary.
The Marine Accident Investigation Branch urged boat users to wear the safety devices at all times in the wake of the tragedy.