Thousands Raised In Memory Of Newcastle United Plane Crash Victims
21 July 2014, 11:16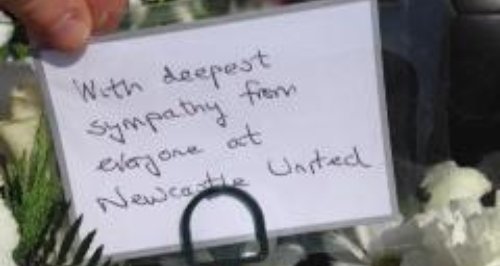 Thousands of pounds has been raised in memory of two Newcastle United fans who were killed in MH17 plane crash, aftr a fundraising page was set up by a Sunderland supporter.
Liam Sweeney, 28, and John Adler, 63, were going to watch their team play in a pre-season tour of New Zealand.

In a show of solidarity with their bitter rivals, Sunderland fans set up an online fundraising drive.

The aim was to raise £100 for a floral tribute, but hundreds of people are continuing to add donations.

A friend of Mr Sweeney's, Amanda-Jade Fowler, said his father Barry was "touched and overwhelmed" by all the support.

She continued:
"He said he felt humbled that so many people want to get involved and help.

I am just in shock that I will not see Liam again. I was only speaking to him last week at Newcastle's (pre-season friendly) game against Oldham."

Despite the rivalry between the two teams, Ms Fowler said she was not surprised by the flood of support.

She said:
"We in the North East are a very special kind of people. We may be divided by rivalry but it seems we are united in grief."

Gary Ferguson, who created the fundraising site gofundme.com, wrote:
"We may be Sunderland fans, who traditionally have deep rivalry with Newcastle, but there are things far more important than any football games.

The incredibly sad news that has emerged this week about two Newcastle fans who have passed has left us all shocked and deeply saddened.

Donating here will help pay for a floral tribute to those fans and to unity between the two clubs."
The thousands of pounds left over will be donated to The Sir Bobby Robson Foundation and Marie Curie Cancer Care.

Commenting on behalf of the Sir Bobby Robson Foundation, Lady Elsie says:
"Like everyone, I was shocked and upset when I heard about flight MH17 and the awful loss of life.

I can't begin to understand what John and Liam's family and friends are going through. It's so hard to comprehend something as terrible as this.

You often see the best of people in the worst of times and that's certainly true of the Sunderland fans who organised this collection in tribute to John and Liam. They, and everyone who has donated to it, are a credit to football and to the North East.

It's a very thoughtful way to pay tribute to two men who obviously loved the game so much."

To make a donation to this tribute fund, or view messages of support, please visit: http://www.gofundme.com/brx6wk.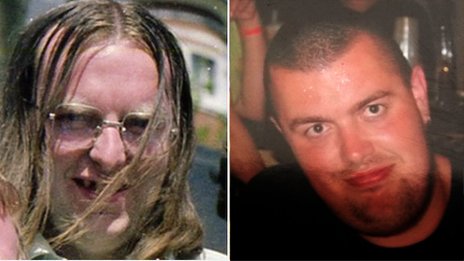 Newcastle United manager Alan Pardew has said the forthcoming season will be dedicated to the two fans.

He told a press conference:
"None of us would be sitting here without the fans.

Owners and managers come and go, as do players, but the fans are always there, and these two guys in particular, to go to the lengths that they did to get out here, has brought home just how important supporters are to us.

Sometimes when you lose lives in that manner, it puts into context what we do.

This season we want to give their families something to remember them by, by having a successful season.''

Speaking about the money raised in memory of the men by Sunderland fans, Pardew continued,
"A lot is made of the rivalry between the two cities, and of course that is there.

But I would like to thank all the Sunderland fans who have paid tribute and helped raise a staggering amount already.

I am very proud of Sunderland Football Club for the way they have conducted themselves and I want to thank them.''

Newcastle face Sydney FC on Tuesday in their opening fixture in the southern hemisphere, and Pardew has vowed to play a strong team to help honour the two fans.

He said:
"It's important we represent ourselves in the right manner, especially after losing John and Liam - our supporters who were travelling out here.

We have to conduct ourselves well on and off the pitch and get some strong results.

That is what they would have wanted and that is what we want, so in memory of those guys in particular, we want this to be a successful tour.

We have to honour these guys in the right manner because it does mean a lot to us. Their tragic loss has hurt the group.

On Tuesday, I will be playing a very strong side. That is only right and fair in light of what's happened.''

_________________________________________________________________________________________________________________

UPDATED Friday 18th July 2014

Two Newcastle fans have died after the Malaysia Airlines tragedy.

John Alder in his 60s and 28 year old Liam Sweeney were travelling to New Zealand to watch their team play in a pre-season tour.
A club statement said John and Liam were travelling out to together to support Newcastle United in the forthcoming Football United Tour, which takes place next week in Dunedin and Wellington.

Mr Sweeney will be known to many fans during his time volunteering as a steward on supporters' buses to away games, the club said.

A memorial site has been setup around the Sir Bobby Robson statue at the ground and players will wear black armbands for both their games in New Zealand.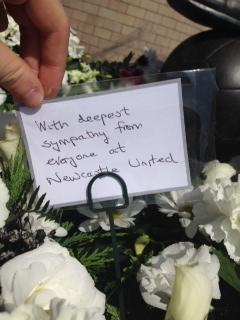 Newcastle United managing director Lee Charnley said:
'The loss of John and Liam is truly devastating news.

Both men were dedicated supporters of our club and were known to thousands of fans and staff alike.

On behalf of everyone at Newcastle United, we send our deepest condolences to John and Liam's families and friends.

The club will be dedicating an area surrounding the Sir Bobby Robson statue for fans to pay their respects to John and Liam.

The manager and players will also be wearing black armbands for both their games against Sydney FC and Wellington Phoenix in the Football United Tour of New Zealand.

Arrangements will be made to pay tribute to the two men at the club's first Premier League game against Manchester City on Sunday August 17. Further information regarding this will be announced in due course.'