200 Firefighters at Smethwick Blaze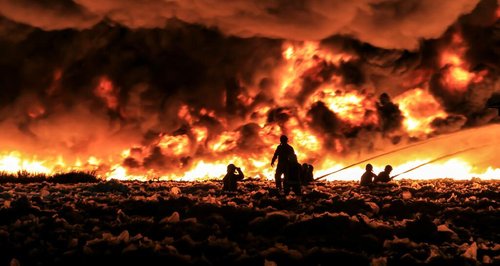 200 firefighters from right across the West Midlands are tackling a huge blaze at a recycling centre on the outskirts of Birmingham.
100,000 tonnes of plastic and paper are on fire at the site near Dartmouth Road and the smoke plume is rising 6,000 feet above the West Midlands.
After looking at CCTV footage West Midlands Fire Service believe it was started by a Chinese lantern
West Midlands Fire Service are advising people living near the blaze to keep windows and doors closed as a precaution.
Police, ambulance crews and the Environment Agency are all at the scene in Smethwick and Heart has been told that at least firefighters have been treated for minor injuries.
West Midlands Fire Service have received more than 200 calls from the public about the fire overnight.
Some roads around Dartmouth Road in Smethwick are closed and are likely to remain shut for several days.
The amazing photograph above has been taken by West Midlands Fire Service.
Here's a video of the fire thanks to Heart listener Ian Dangerfield: