30 Years For Daniel Pelka Murder
2 August 2013, 06:45 | Updated: 12 August 2013, 13:07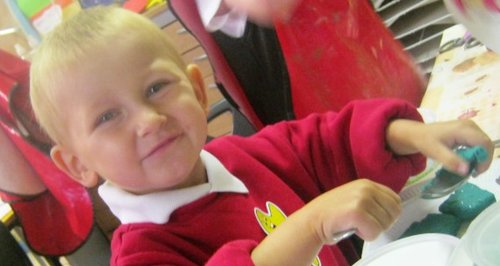 A ''callous and wretched'' mother and stepfather have been jailed for life for murdering a four-year-old boy who was systematically starved under the noses of his teachers and health professionals.
Magdelena Luczak, 27, and her partner, Mariusz Krezolek, 34 were described as heartless ''monsters'' during the nine-week trial at Birmingham Crown Court.
The pair have been jailed for life and will now serve a minimum of 30 years for the 4 year olds murder.
Mrs Justice Cox said throughout the case each blamed the other for the child's death.
Jurors, who had sat through a wealth of evidence charting six months of systematic abuse against the defenceless youngster, took less than four hours to unanimously convict Luczak and former soldier Krezolek on Wednesday.
Evidence included details of Daniel's final moments as he was first savagely beaten, leaving him with a fatal head injury, and then left to die alone in his unheated ''cell'' room over a period of 33 hours.
The couple colluded in a campaign of cruelty in which he was denied food, imprisoned in a locked box room and force-fed salt at their Coventry home.
The pair, both originally from Poland, also forced Daniel to perform arduous punishment exercises such as squats or running, while duping teachers and doctors into believing his weight loss was as a result of an eating disorder.
Police said the abuse had turned Daniel from a ''bright-eyed boy'' to ''a broken bag of bones''.
At time of death, he weighed just 1st 7lb (10.7kg) and had been reduced to the point of ``skeletal emaciation'' by the regime of starvation orchestrated by his stepfather and mother.
Detectives described the harrowing death as the worst case of child abuse they had ever seen.
A serious case review looking at what lessons can be learned from the young boy's death has now been launched by Coventry's Safeguarding Children Board.
The review team is expected to examine any missed opportunities to intervene in Daniel's case and will also look at why social services and police did not become involved after staff at Coventry's Little Heath Primary School noticed bruising on his neck and what appeared to be two black eyes.
Speaking after the verdict, Detective Inspector Chris Hanson, described the murder as an ''unforgivable and heartbreaking'' betrayal of trust.
'Those with the ultimate duty of care turned Daniel from a beautiful and bright-eyed little boy into a broken bag of bones.
''It was a callous and wretched murder. After a savage beating they left him, starving, locked in a room in the dark to die on his own.''
Daniel's murder, which has chilling echoes of the 2007 death of 17-month-old Baby P, has shocked the nation.
Deputy Prime Minister Nick Clegg spoke to Heart and described the young boy's killing as ''a vile, evil murder'' adding ''his death should be on all of our consciences''.