Meningitis: Family Pay Tribute To Seven Year Old Boy
13 December 2013, 10:39 | Updated: 13 December 2013, 11:17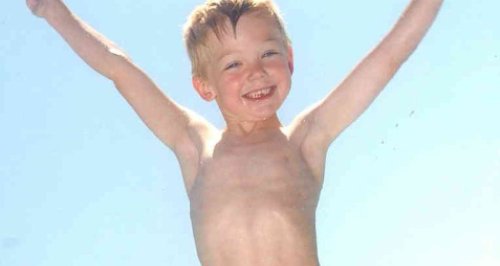 The family of a seven-year-old boy who died after contracting meningitis have paid tribute to their motorbike-mad ''loveable rogue''.
Mason Timmins died at North Staffordshire Hospital on Tuesday after his parents, Mark and Claire, allowed his life support machine to be switched off.
Mason's parents said the most fitting legacy their ''ball of energy'' could leave behind is to remind people to live their lives to the full.
His father, a welder/fabricator, said: ''We know we've lost Mason but his energy is still here - he's in every room, the garden, his school, everywhere.
''We want to let everyone know what a fantastic lad he was. We want to remember him and laugh about all the funny things he said and did.
''We know that people all over Bloxwich will remember his mischief, his sense of fun and the fact that he definitely left an impression.''
His 34-year-old mother said Mason, who attended Little Bloxwich Primary School, had moaned about going to bed ''as he always did'' last Sunday evening and had been sick and unwell later that evening.
''We're not the type of parents who panic at every cough and snuffle and I survived meningitis as a child so we were aware of the signs to look out for,'' she said.
''He didn't really get any better and we took him to the doctor's as he suddenly became really pale.
''He was admitted to Walsall Manor Hospital where he had to have various tests and was transferred to Stoke for more specialist care.
''Mason had been vaccinated against meningitis but not this particular type, which is a rare type.
''We knew there was nothing more that could be done for him, we knew we had lost him and we didn't want him messed about with so allowed his life support machine to be turned off on Tuesday.''
Health officials have moved to reassure parents after Mason's death from meningococcal disease.
A statement, released on behalf of Walsall Council on Thursday 12th of December, said they were working with charity Meningitis Now and Public Health England (PHE) to support the school and to reassure other parents.
There was a meeting between health officials, support workers and parents to discuss symptoms and the ongoing risk to other children, which is described as very low.
Anyone who came into close contact with the youngster has been offered antibiotics and a letter has also been sent to parents setting out the facts about the infection.