Stephen's Story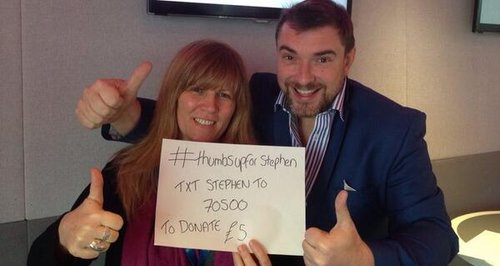 A terminally ill 19-year-old has raised £2m, doubling his goal after his final wish went viral.
Stephen Sutton, from Burntwood in Staffordshire, was diagnosed with incurable colorectal cancer at the age of 15.
Last year he was told it was inoperable, prompting him to write a bucket list of 46 things he wanted to achieve.
One of his goals was to raise £1m for Teenage Cancer Trust.
Stephen posted on his Facebook page on Monday about his deteriorating condition, saying: "It's a final thumbs up from me! I've done well to blag things as well as I have up till now, but unfortunately I think this is just one hurdle too far."
From then, Stephen's Story went viral. It had backing by celebrities and caught the generosity from the public and his JustGiving page has since gone viral, and he hit his target just after 11am on Wednesday.
Celebrities and people worldwide have been participating with #ThumbsUpForStephen after immense support from Jason Manford including Heart Breakfast's Ed & Rachel who spoke to him this morning.
Breakfast Blog: Stephen's Story - Jason Manford
Stephen's Story reached £2 million Thursday evening at 8.40pm. You can donate to The Teenage Cancer Trust for Stephen's Story using his JustGiving page or by texting STEPHEN to 70500 to donate £5
Update - Stephen's Story has reached £3 million Monday 28th April at 2.44pm.