A-Z of the West Midlands Selfie Challenge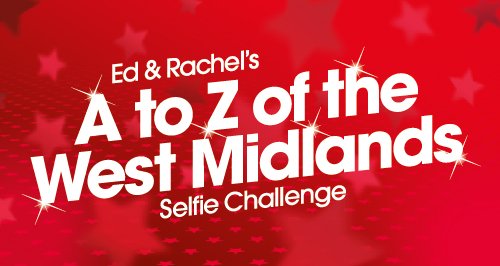 We love where we're from! We want to shout about it from the rooftops! So, to celebrate we've come up with a unique way to utilise Ed and Rachel's rivalry.
Ed and Rachel's A-Z of the West Midlands Selfie Challenge (catchy title don't you think?) has come to an end! Each day Ed and Rach both took a selfie somewhere in the West Midlands that represents that day's letter. They didn't show each other their work until the next morning, when we published the photos on our Facebook page (Facebook.com/heartwestmidlands). You voted for your favourites in your thousands and the winning photos have all made it into the gallery below.
At the end of the challenge the total score was 13 to Ed and 13 to Rachel, so we counted up all of the likes on all of the selfies on Facebook to find our ultimate selfie winner. With a fantastic result on his final selfie, Ed was crowned victorious. So Rachel had to face a forfeit… Click on the link below to find out what happened when we sent her to meet the tigers at West Midland Safari Park.