Win Alton Towers Tickets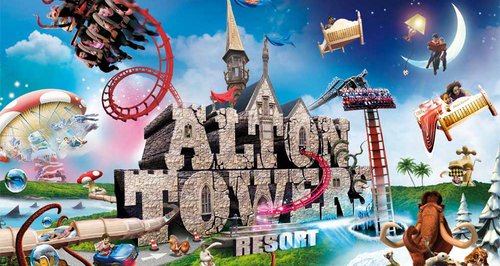 We're taking to the skies over the West Midlands with Heart's Fly By. And we've 100 family tickets up for grabs for your families fantastic summer escape to fun filled Alton Towers Resort!

During the Heart Breakfast show on Friday 10th August, were sending Heart's Julian Jones up in a plane towing a great BIG Heart & Alton Towers Resort banner.
Whether you're on your way to work or doing the school run, make sure you're looking up to the skies between 7.30am and 9.30am each week to see the plane and it's banner which will have a different code word on each week. If you spot the plane and see the code word you could be in with a chance to win, simply text the CODE WORD to 82122 and you're in the draw.
The plane will be taking this Friday 11th August, weather permitting and our flight plan will take us over SOUTH-WEST & SOUTHERN BIRMINGHAM including the following places:
Julian's proposed Flight Plan for Friday 10th August
• Take off from Halfpenny Green Airfield
• Kidderminster
• Bromsgrove
• Redditch
• Wythall
• Halesowen
• Cradley Heath
• Brierley Hill
• Land at Halfpenny Green
Each week we'll pick 100 winners from all correct entries to receive a family ticket for 2 Adults & 2 Kids. So you can escape the recession, escape the sport, escape the rain and enjoy a fantastic day out with your family at Alton Towers Resort this summer!
We may also occasionally post the Code Word on the Heart West Midlands Facebook page - Make sure you like the page!
Heart Breakfast Competition Terms & Conditions
Escape to Alton Towers Resort this summer!
Escape to the UK's favourite theme park this summer and experience a fantastic mix of family fun and adrenalin pumping rides.
Deep beneath the Alton Towers Resort lies Nemesis Sub-Terra. A psychically and psychologically thrilling experience, Nemesis Sub-Terra takes guests into a darkened chamber where the egg of an alien creature has been unearthed. Thought to be that of the original Nemesis creature, it quickly emerges that all is not as it seems. Will you escape your worst nightmare?
If scares aren't your thing, then joining the over 50 rides and attractions for 2012 is Ice Age the 4D Experience*. The Ice Age cinema combines 3-D footage, based on the third movie in the blockbuster series, with an exhilarating variety of physical effects including icy blasts, snow and bubbles. Fans will also have the opportunity to meet both Sid and Scrat around the Alton Towers Resort.
* ICE AGE ™ © 2012 Twentieth Century Fox Film Corporation.
All Rights Reserved.