Wiltshire Council Driving Advice In Bad Weather
11 February 2014, 18:33 | Updated: 11 February 2014, 18:38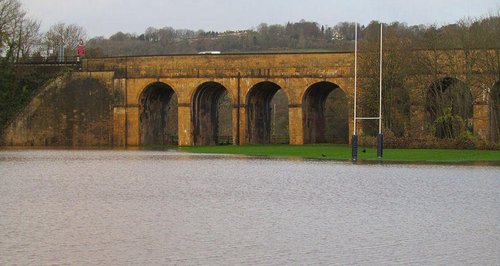 Motorists are being urged to drive safely and sensibly as Wiltshire prepares to see more rainfall over the coming days.
The emergency services are already stretched helping the most vulnerable in our communities, and every time they have to help drivers who have driven through the floods, this could delay other vital, lifesaving work.

Drivers should never move road closures, or attempt to drive through roads which have been closed due to flooding – both of these are a potential offence. Where roads are open, but have some minor flooding, drivers must slow down and drive according to the conditions.

Many houses are at danger of flooding by the bow wave from fast-moving vehicles, and pedestrians can be drenched with unclean water. This is also and offence and motorists could also be prosecuted for this.

Jonathon Seed, Wiltshire Council cabinet member responsible for flooding, said:
"We are working with agencies and communities to do everything we can to minimise the impact of flooding on local residents and businesses, but we need people, especially drivers, to think about how they are travelling through the county. Inconsiderate driving could cause an accident or damage properties, and motorists could be prosecuted for driving inconsiderately. All we are asking is for a bit of common courtesy when driving in these conditions.

On two occasions when I have visited flood affected villages in the past week I have personally witnessed drivers creating unacceptable difficulties to pedestrians by travelling too fast through flood water. On one occasion in Tilshead cars drenched the team laying sandbags to help keep the road open and this is totally unacceptable."

Steve Cox, head of roads policing at Wiltshire Police, said:
"I cannot stress how important it is for motorists to pay due care and attention to the roads during this challenging weather. Motorists should pay attention to road signs and in particular if a road is closed do not attempt to drive on it as you may be putting your vehicle or your life at risk.
Wiltshire drivers need to illustrate common courtesy to home owners and pedestrians whilst moving through minor flooding. It is also important to realise that if a car owner drives recklessly or ignores road signs that they could be prosecuted by the police and I would encourage the public to report any wrongdoing to the police via the 101 telephone number."

Flooding update:

Groundwater and river levels are still high, and more rain is expected across Wiltshire again this week.
Groundwater and river levels often take days to react to rainfall, so people are being advised to be vigilant in the days following rainfall.
People are also being urged to refrain from driving or walking through flood water because it is never clear how deep the water is or what the water is covering. It is important people do not move or remove signs.

The Environment Agency (EA) is continuing to monitor river levels particularly in Malmesbury, Bradford on Avon and Salisbury.

Wiltshire Council is monitoring at-risk areas and working with local people, particularly those who are vulnerable in case water levels rise significantly.

Flood defences, which were put in place in Bradford on Avon on Thursday February 6th by the EA, will continue to be in place over. Wiltshire Council and Wiltshire Fire and Rescue are supporting this work.

Teams from Wiltshire Council are already out in force, dealing with flooded roads and properties. People who see a blocked road are being asked to report it, although it may take some time for the team to reach minor roads. If people wish to report a highway issue, they can call the council's highways team on 0300 456 0105.