Malborough: Men Jailed For Jewellers Robbery
6 March 2014, 13:27 | Updated: 6 March 2014, 14:34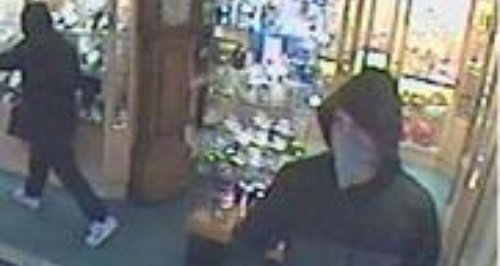 Five men have today been sentenced to a total of 22 years and 8 months for their parts in an armed robbery at a Marlborough jewellers last September.
The men entered Deacon & Sons jewellers shortly before 9:45am on Tuesday September 17th last year and began smashing display cabinets and grabbing jewellery before jumping into a waiting car and speeding away.
Marcus Delroy Cohen, 33, Paul Gallimore, 33, and Linton Daren Summerfield, 20 were arrested and later charged with robbery after the car they attempted to flee in crashed on the A419 near the Great Western Hospital.

The two remaining men, Leroy Green, 35 and Cristian Coulston, 20, were also arrested and later charged with robbery in October and November last year.
Superintendent Gavin Williams said: ''There is no doubt those involved were selective about the area they targeted.
''What they didn't count on is the way officer's responded so efficiently and skilfully and utilised local knowledge to secure early arrests.
''The hard work continued with many long hours put in by the investigation team to secure the two further arrests and get us to this point today and I'd like to thank them all for their efforts.
''Thankfully, incidents of this nature are rare in Wiltshire but it highlights that when they do happen we are equipped and prepared to respond. Those who think we're an easy target should think again.''