Devizes: Fire At Recycling Centre
29 January 2014, 14:48 | Updated: 29 January 2014, 15:15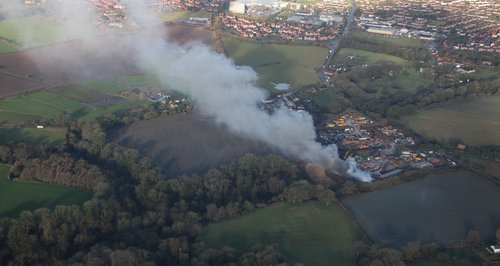 Wiltshire Fire & Rescue Service expects to be at the site of a recycling centre fire in Devizes for the next couple of days.
Crews were called to the Wiltshire Waste (Recycling) Ltd transfer station off Monument Hill at 4.44pm yesterday (28 January), where they found some 300 tonnes of general waste well alight.
Following discussions today with partners including Wiltshire Council, Public Health England and the Environment Agency, it has been agreed to let the fire burn out under control.
Firefighters will remain at the scene, utilising on-site machinery to maintain fire breaks and turn over the affected piles of waste. This will allow access to the seats of fire, and water recycled from within the site will be used to tackle these as required.
Two fire engines have been on site throughout the day and a decision will be made at last light as to the level of attendance to maintain throughout the night.
The advice from Public Health is that the risk to the public is generally low. People are advised to take sensible precautions and, although there is no need to restrict daily movements, if you can see or smell smoke, you may wish to consider closing doors and windows as a precaution. This will be especially relevant for people with a pre-existing respiratory condition.
Whilst the fire continues to burn, the smoke plume will move around as the weather conditions change. During this time, Wiltshire Council and Public Health England will be working together to provide on-going air monitoring to ensure that there is no risk to public safety.
Follow @wiltscouncil and @WiltsFire on Twitter for further updates.