Environment Agency Tackles Swindon Recycling Fire
17 August 2014, 08:01 | Updated: 17 August 2014, 08:15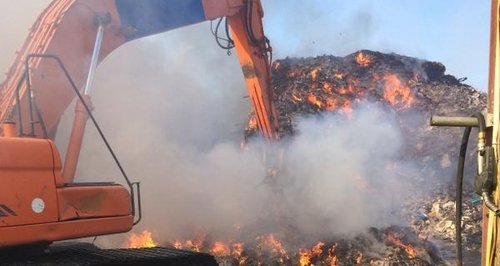 The Environment Agency is taking over the clean up at a recycling site in Swindon, which has been on fire for nearly a month.
On Friday Averies in Marshgate was ordered to remove 3 thousand tonnes of waste so the fire could be put out before Saturday

The agency says nothing's been done so they'll take over.

Their spokesman said "We intend to use our powers to remove waste from the site to allow Wiltshire Fire and Rescue services the space to extinguish the fire.

Environment Agency contractors will start work as soon as possible .

We are using our powers because the operator has failed to respond to previous enforcement notices.

The fire at the centre first started on 21 July but so far attempts to put it out have so far been difficult because of compacted waste stopping firefighters have access.

On Friday Area Environment Manager Colin Chiverton told Heart:

"There's been a long history of non-compliance with the permit conditions and we have been concerned with the amount of waste on site there for a long time."

"It is very disappointing, not least because it is impacting significantly on the residents of Swindon, it's impacting significantly on local businesses that is what we're trying to make better."

"It's their waste, it's their site, it's their problem they should be looking to tackle it at their cost."