Army: Exhibition Over Plans For Army Relocating To WIltshire
26 November 2013, 12:13 | Updated: 26 November 2013, 12:19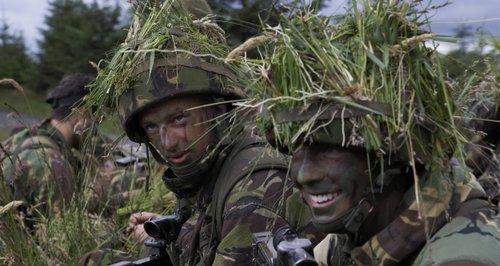 Exhibitions are being held so local people can find out more about plans which will see Army personnel and their families relocating to Wiltshire.
In March 2013 it was announced that approximately 4,000 additional troops will be located in Wiltshire over the next five years as part of the Army's Basing Programme.
Wiltshire Council has been working closely with the Ministry of Defence's Defence Infrastructure Organisation (MOD DIO) and agencies from across the county to ensure key facilities and infrastructure will be in place for both the local community and incoming troops and their families.
The public is invited to find out more about this work at a series of exhibitions in South Wiltshire. The MOD and Wiltshire Council is welcoming local input at this early planning stage to ensure the additional troops and their families can integrate smoothly with existing communities. The exhibitions are intended to encourage widespread engagement and raise awareness of future plans prior to formal consultation through the planning approvals process, which is likely to take place in early 2014.
There will be an opportunity for people to make comments at the exhibitions as well as by e-mail or by sending their views by post.
The exhibitions will be open to the public at Wellington Academy, Tidworth from 7:30pm to 9pm on November 27 when there will be opportunities to speak to DIO staff who are delivering the work, representatives from the Army as well as Wiltshire Council's elected members and officers. From November 28 to December 6 there will be exhibitions at Amesbury Library and Tidworth Leisure Centre.
Jane Scott, leader of Wiltshire Council said:
'Wiltshire has a proud military history and we have been extremely successful in welcoming the Armed Forces to Wiltshire and integrating military personnel and our residents to create thriving local communities.
'Wiltshire Council is working with the MOD and other government agencies to ensure the right infrastructure, facilities and services are provided and we want to extend this partnership to include the local community. These exhibitions are a good opportunity for people to find out about current and future plans and to convey their views.'
David Underhill, DIO Head of Basing Programme said:
'DIO is very pleased to be working with Wiltshire Council in providing this key element of the Basing Plan for the Army. The exhibitions are an excellent opportunity for DIO to engage with the local community on our early plans, ahead of the main formal public consultation in early 2014.'