Wiltshire Fire Service Advice After Huge Field Fire
25 July 2014, 17:25 | Updated: 25 July 2014, 17:33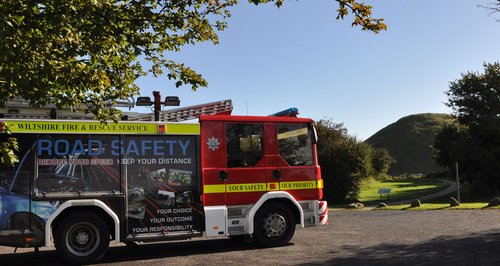 Wiltshire Fire & Rescue Service has been called to numerous grass fires already this summer, including a field blaze near Chiseldon that was started by a discarded barbecue.
In addition, a 400m x 300m field of standing crops was destroyed by fire near Shrewton on Thursday 24 July, with eight fire crews needed to extinguish the flames. Area Manager Ian Jeary said:
"The sunshine is wonderful but it means the countryside is tinder dry, and any fire will spread incredibly quickly, often causing a great deal of damage to land and property. We are urging people to take real care while out and about – a few moments thought can make all the difference."

Tips for staying safe outdoors this summer:

Avoid open fires in the countryside. If you have to have a fire, make sure you're in a designated and safe area, and have a fire extinguisher or some sort of water supply to hand.
Always make sure cigarettes and other smoking materials are properly extinguished.
Don't throw cigarette ends out of your vehicle, as they could start a fire and destroy the surrounding countryside.
Don't leave bottles or glass in fields or woodlands. Sunlight shining through glass can cause a fire to start.
If you see a fire in the countryside, report it immediately. Don't try to tackle it yourself.
Make sure you know your location or nearby landmarks so you can direct the Fire & Rescue Service to the right place.

More advice, including a reminder of the Countryside Code, can be found at www.wiltsfire.gov.uk/countrysidesafety