Marlborough: 45 Company Parade Through Town
28 November 2013, 13:50 | Updated: 28 November 2013, 14:04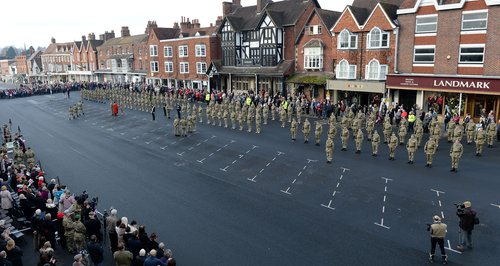 80 soldiers of 45 Company, 4 Military Intelligence Battalion (4MI Bn) who have recently returned from a challenging and successful six month deployment in Afghanistan received their operational medals at a parade in historic Marlborough.
They were joined by over 100 of their fellow soldiers from the Battalion and marched from Marlborough College into the High Street to be presented with their medals by The Chief of the Defence Staff (CDS), General Sir Nicholas Houghton GCB CBE ADC Gen The Colonel Commandant of the Intelligence Corps and the Mayor of Marlborough, Mr Guy Loosmore.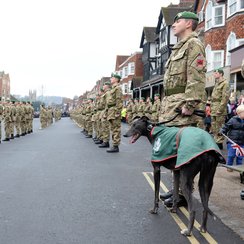 They were led in by The Band of the Grenadier Guards, one of the world's premier military bands and The Battalion's adopted greyhound "Blue". 4 MI Bn also exercised its Freedom of Marlborough by marching with fixed bayonets and flags flying. This was granted to the battalion in June 2011 making it the first Army unit to have been awarded Marlborough's Freedom of Entry since 1204.

4MI Bn as it is known today, was formed on 3 September 2001 but can trace its roots back to the D-Day landings of the Second World War. 4 MI Bn's mission is to deliver intelligence and counter intelligence support to the Army. In Afghanistan, the Battalion provided vital information to the Chain of Command in order for tactical decisions to be made.

General Houghton addressed the troops saying:

"I think the links that exist at a local level in towns such as Marlborough and units of the Army and the Armed Forces are fundamental in helping those units when they deploy on operations and the knowledge that they have that close association and close support. "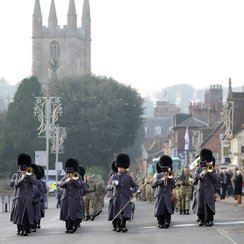 Major Jim Holl, the Officer Commanding the recently returned 45 Company said:

"What a day! The towns folk turned out in huge numbers. A huge and proud day for the battalion and great for my soldiers - just fantastic."

The parade was watched by both Marlborough Town Council dignitaries and families and friends, and hundreds of school children turned out to wave and cheer. The close ties between the town and the Battalion is underlined by the Battalion's use of the greyhound as its emblem as illustrated in the Town's coat of arms.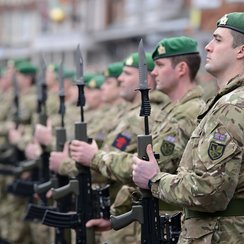 (Photos courtesy of Cpl Daniel Wiepen RLC)