Prince Charles Visits Malmesbury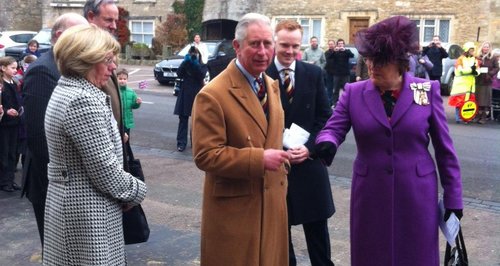 This morning, His Royal Highness The Prince of Wales took a look round the Sherston Old School, near Malmsbury - a grade II listed building given £50,000 by The Prince's Countryside Development Fund.
It had been empty since 2005 when it was made redundant by the opening of a new school but it's now been given a new lease of life housing the village shop and several local businesses.
Hundreds turned out to see The Prince who, after being welcomed by kids from the local primary school, visited Shear Class - the village's new hair salon.
Charles took some time to chat all things beauty with Faye Bolton who runs the nail bar:
'I've obviously seen him in magazines and on the TV but in real life he's actually very down to earth and easy to talk to. He was asking about massaging and what I do for treatments.'
After picking up his new beauty tips, The Prince made his way round the wine shop, Post Office and some smaller offices in the building, talking to the kids who lined the High Street as he made his way between them.
Samantha Willougby. a teacher at the school told Heart:
'It's very exciting and really lovely for the children. There's such a buzz about the place today.'
9 year-old James Hume spoke to The Prince:
'He was much nicer than I thought. Way more friendly.'
Later on in the day, Charles went to the Rural Innovation Centre at the Royal Agricultural University in Cirencester which The Prince's Countryside Fund gave £50,000 to to support a three year project benefitting 90 young local people currently not in education, employment or training.