Swindon: Boots Found Belonging To Sian O'Callaghan
1 June 2014, 08:00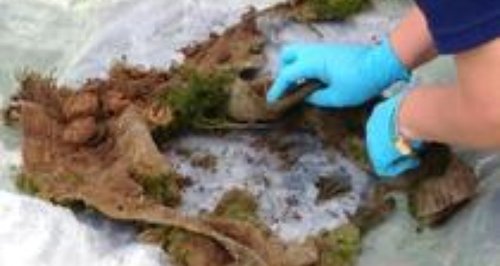 Wiltshire Police have finished their searches of a pond in Ramsbury.
Detectives from the Major Crime Investigation Team made an initial discovery of a left boot on 15 May which belonged to Sian O'Callaghan, who was murdered in March 2011.
Divers and specialist search teams were called in and on Friday the 16 May, whilst media were at the scene, divers pulled out of the pond a second boot, which was Sian's right boot.
Detectives continued to extensively search the area in order to maximise the opportunity. There was a hope that they may find any of the other missing items belonging to Sian, such as, her mobile phone or keys.
Later that day a single barrel shotgun was pulled out of the pond by divers.
Police then decided to drain the pond in order to search the silt at the bottom to see what else they might find.
Nearby searches of the woodland revealed a pile of material, possibly women's clothing, 100 yards away from the pond. Buried under a few inches of mud, detectives removed the material, amounting up to 60 pieces, some of which are believed to be clothes. They also found a 'chunky knit cardigan' which was discovered near to the pond edge.
Wiltshire Police are satisfied that these clothes did not belong to Sian O'Callaghan.
All of the items found will be carefully reviewed and forensically tested. Detectives continue to keep an open mind as to why items were found at the pond. It is possible items may not be linked to the investigation.
Meanwhile, Wiltshire Police have released a statement in relation to Sunday Express article on the searches: ''We are disappointed that this article has been printed. Although a 'CID' source has been quoted, the comments made by this individual are highly speculative and unhelpful to our investigations. The searches in the Ramsbury area have been completed as of 4.30pm on 31 May and the items found are now subject to review and testing. Wiltshire police have made no links to the missing women mentioned or any other cases at this stage. Detectives are in the early stages of the review and any forensic testing. Speculation such as this is unhelpful and can be potentially distressing for families who may have lost their loved ones. Wiltshire Police are committed to ensuring a thorough investigation and will maximise any evidential opportunities that are found. However, at this stage it is too early to make links to missing women or to speculate on why the items were found there.''