Swindon: Firefighters Tackle Major Blaze
28 November 2013, 17:39 | Updated: 28 November 2013, 17:41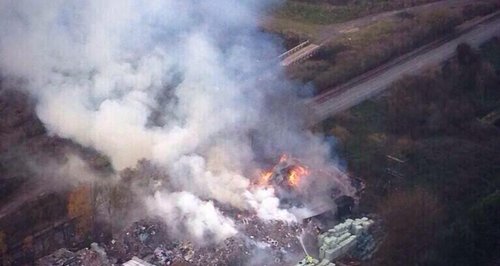 The fire at Cheney Manor Industrial Estate in Swindon is going to be allowed to burn out under control over the next 48 hours.
Wiltshire Fire & Rescue Service was called to Swindon Skips at 8.48pm on 27 November, where crews found some 750 tonnes of building and timber recycling material well alight.

A major firefighting operation has been on-going throughout the day, with a maximum of eight fire engines on scene at any time.

As of 4.30pm today (28 November), there were five crews in attendance, from Malmesbury, Chippenham, Melksham, Westbury and Ludgershall. They are being supported by an incident command vehicle crewed by Devizes firefighters.

The fire has been contained to one part of the site and so the decision has been made to allow it to burn itself out. This is the most effective way of bringing the incident to a close, and will avoid any environmental hazard from using significant amounts of water.

Smoke from the fire can still be seen from some distance away – both the Environment Agency and Public Health England are monitoring the site, and people locally are advised to keep windows and doors shut as a precaution if they are concerned, especially if they have existing respiratory conditions.

Public Health England has said:
"People should do all they can to stay out of the smoke. If residents are affected by smoke, they should stay indoors and keep windows and doors closed. Motorists who have to travel through the smoke should also keep windows closed, turn off air conditioning and keep their air vents closed. Anyone affected by the smoke or concerned about its impact on their health should call NHS 111."

The Fire & Rescue Service is working with partners from the Wiltshire and Swindon Local Resilience Forum to manage the incident. A response team from the Plymouth Brethren Christian Church is on scene, providing welfare and refreshments for the crews under an agreement with the Service.

A fire investigation will be carried out in due course; as yet, it is not known how the blaze started.
Photo Credit: © Wiltshire Air Ambulance (Matt Baskerville)