Swindon: Police Carry Out Drugs Raids
28 November 2013, 09:56 | Updated: 28 November 2013, 09:58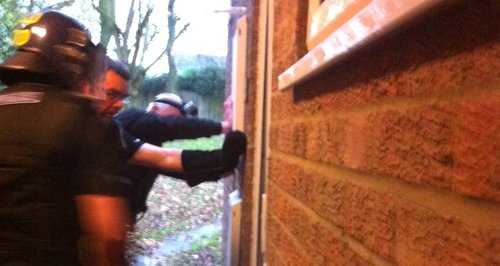 More than 120 police officers have carried out a number of drug raids across Wiltshire.
On Wednesday morning teams raided addresses in Swindon, Chippenham, Melksham, and Trowbridge as part of Operation Harness.

The day of action supported Operation Atlantic – which is a dedicated police operation targeting the supply of crack and heroin by Dangerous Drugs Networks.

A total of 17 addresses were raided with 18 people arrested, the majority for being concerned in the supply of crack and heroin.
Quantities of crack, heroin and cannabis were recovered, as well as a replica firearm and offensive weapons.
Detective Chief Inspector Craig Holden, who leads Wiltshire Police's fight against problematic drugs supply said:
"Yesterday's operation has been highly successful in terms of disrupting the supply of crack and heroin in our county and sending a warning signal to any individuals or groups of people involved in this trade. Yesterday, we acted on intelligence supplied by our local communities. It is this important information that enables us to provide such a sustained and robust enforcement response to those that distribute crack and heroin. The value of this community-led intelligence can never be underestimated.

We continue to work closely with partners in the local authority and the charitable sector to bring about a long term reduction in the demand for and the supply of drugs. There is a particular focus on those members of our communities who are vulnerable and often exploited by drugs networks and gangs.

I would urge anyone with information to contact Wiltshire Police immediately on 101 or Crimestoppers on 0800 555 111 where information can be left anonymously."

Superintendent Gavin Williams said:
"The supply of problematic drugs has dire consequences on our local communities. It can be directly linked to increased rates of crime – from anti-social behaviour to acquisitive crime and serious assaults. The drugs networks prey on the most vulnerable in our society and exploit them for their own financial gain.

Wiltshire Police is dedicated to tackling the supply of problematic Class A drugs in our county and Operation Atlantic is proving a very successful vehicle to drive this forward.

"I would, however, like to stress that the problem of drugs in Swindon and Wiltshire is not out of sync with the size of our population and in comparison to similar locations. I would encourage anyone who has concerns that illegal drugs might be being sold or used in their neighbourhood to contact us immediately."

Police and Crime Commissioner for Wiltshire and Swindon Angus Macpherson attended the raids yesterday morning. He said:
"I was able to see Operation Harness in action firsthand yesterday morning and I was pleased to see so many officers and staff involved. People with drugs habits can become trapped in a cycle of reoffending and live a life of social exclusion which is why is it crucial to tackle the problem at the source.

It has become increasingly clear to me that information passed on from our local communities to the police plays a huge part in assisting operations such as these so I would encourage anyone with concerns to contact Wiltshire Police."

Anyone wishing to report a crime should contact Wiltshire Police on 101 or Crimestoppers on 0800 555 111 where information can be left anonymously.