Trowbridge: Statue Of Jesus Stolen
3 March 2014, 15:26 | Updated: 3 March 2014, 15:31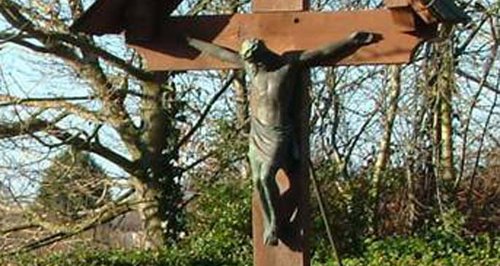 A bronze statue of Jesus Christ, cast nearly 100 years ago, was stolen from a War Memorial in Wingfield, near Trowbridge over the weekend.
The 40" statue, which formed part of the War Memorial, was first erected in 1917 and believed to be worth around £10,000.
It is believed to have been stolen from its position at the Wingfield Crossroads, where the A366 crosses the B3109, overnight on Friday into Saturday (28th February – 1st March). Three bronze bolts attaching the statue to a wooden cross were also taken.

PC Richard Gardner from the Crime Management Unit in Melksham, who is investigating the theft said:
"This isn't simply the theft of valuable metal, this is the theft of something symbolic to a community. It remembers those who have paid the ultimate price to protect our way of life which is particularly poignant in this the 100th year of the commencement of hostilities. If you have any information about its removal or what has happened to it since please contact us."

Anyone with any information can contact PC Gardner on 101 or Crimestoppers on 0800 555 111 where information can be left anonymously if they wish.