Wiltshire: Weather Warnings Issued
6 February 2014, 16:34 | Updated: 6 February 2014, 16:42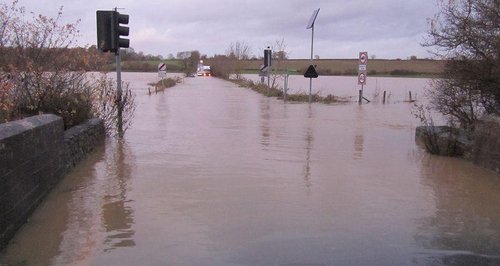 Wiltshire is on an Amber Alert of heavy rain and strong winds.
The County Council say:
'Agencies and communities are continuing to work together to minimise the impact of flooding on local residents and businesses as wet weather is set to continue today (February 6) and over the weekend. Met Office statistics suggest that for south England this is one of, if not the most, exceptional period for winter rainfall in at least 248 years. Those statistics show it was England and Wales' wettest January since 1766.

Groundwater and river levels are still high, and with heavy rain and winds expected across Wiltshire today and over the weekend, the situation is expected to worsen. Groundwater and river levels often take days to react to rainfall, so people are being advised to be vigilant in the days following rainfall.

Jonathon Seed, Wiltshire Council's cabinet member responsible for flooding has praised local people and staff from the relevant agencies for their hard work. He said:
"Despite the terrible weather we have had on and off since just before Christmas, the response from staff and people within the community has been excellent and I'd like to thank everyone, particularly those who have been working around the clock often in challenging conditions.
We have seen people pull together locally to help vulnerable neighbours in times of need and enact flood plans to minimise the disruption. Unfortunately, due to high river levels and groundwater flooding, any extra rain is liable to cause more difficulties. We will continue to work with our partners throughout the weekend and into next week to ensure the often devastating disruption caused by flooding is kept to an absolute minimum."

Teams from Wiltshire Council are already out in force, dealing with flooded roads and properties. People who see a blocked road are being asked to report it, although it may take some time for the team to reach minor roads. If people wish to report a highway issue, they can call the council's highways team on 0300 456 0105.

This work is being coordinated by the Local Resilience Forum (LRF) which prepares for, responds to and helps with the recovery from local major incidents and emergencies.

Safety messages:

After periods of heavy rainfall, water stored within the ground can overflow and come to the surface as springs or seepage. This can cause problems for months after very bad weather and can often affect properties that are not frequently flooded.

People are being urged to refrain from driving or walking through floodwater because it is never clear how deep the water is or what the water is covering.

Please ensure there is good ventilation if using portable indoor heating appliances to dry out indoor spaces. Do not use petrol or diesel generators or other similar fuel-driven equipment indoors: the exhaust gases contain carbon monoxide, which can kill.