Wiltshire: 40% More Potholes After Flooding
11 March 2014, 11:48 | Updated: 11 March 2014, 12:04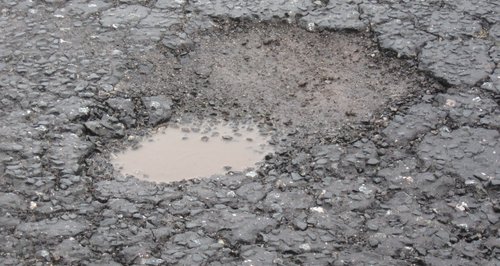 Wiltshire County Council say they are making the most of the dry weather by getting teams out to fix roads which have been 'badly damaged' by 'unprecedented' levels of rain.
So far this year, Wiltshire Council has dealt with more than 1,250 flooding-related incidents across the county.
They are telling Heart 40 percent more potholes were reported in the first two months of 2014 compared to 2013. The council were told about more than 2,600 carriageway defects by either the public or council staff over that period compared to the around 1,900 at the same time last year.
The most urgent repairs are being carried out by 22 community stewards. They are using specialist road repair material, which can be used even where potholes are still full of water. The teams from the council's highways maintenance contractor Balfour Beatty Living Places (BBLP) are targeting damage that can be repaired quickly without the need to close roads.
There are a further four, two man gangs dealing with the less urgent repairs, and a gang working on the larger areas. A large programme of major resurfacing is underway and will continue for the next six years as they bring the road network up to standard.
Information on potholes that need filling comes from members of the public, via the MyWiltshire app, social media, email and phone calls to the council on 0300 456 0105, as well as internally from the council's area teams around the county.
John Thomson, cabinet member for highways, said: "The prolonged period of heavy rain and flooding has clearly damaged our road network. We are doing everything we can to keep that damage to a minimum by repairing the roads before they freeze as this can make the damage much worse.
"Our priority is to deal with those where there is a clear safety issue to road users. However, the best way to reduce potholes and other damage to our roads is through long-term investment and that is why we as a council are spending that additional £52 million over the next six years to ensure Wiltshire's roads are not just maintained but improved. I'd like to thank everyone who has contacted the council to report road defects - by working together we can ensure our roads are as safe as possible."
Anyone wishing to report information on potholes that need filling comes can do so via the MyWiltshire app (available on iPhone or Android), at www.wiltshire.gov.uk/mywiltshirelogin or by calling 0300 456 0105.