Chippenham: New College Campus On The Way
25 March 2014, 15:59 | Updated: 25 March 2014, 16:01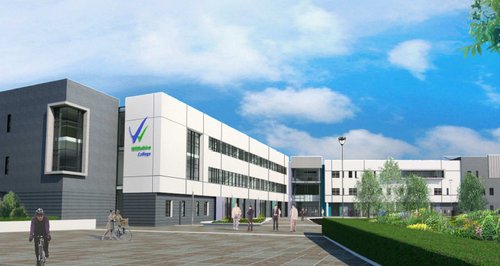 Wiltshire College has been given the go-ahead to build a state-of-the-art £21 million campus in Chippenham.
The 9,100m2 three-storey building was given the green light by Wiltshire Council and building work on the new campus is due to begin in May.
Ben Allen, who is the Vice Principal for Business Development, said: ''We are delighted to have got planning permission for the new campus.
''This is a transformational project for both the college and the wider community of Chippenham and we are looking forward to starting on site.''
The new facilities will support growth in vocational training and apprenticeships in areas such as engineering, construction and hair and beauty, as well as university level courses and army resettlement.
The college add the new campus will be flexible to meet the future anticipated demand of students, employers and the community and will provide industry standard workshops and vocationally-tailored spaces, together with realistic working environments.
Wiltshire College revealed its proposals to redevelop the existing campus in October on land behind the existing college buildings off Cocklebury Road in the town.
The College was advised by Huw Jones from the Bristol office of leading national planning consultancy, Turley.
Following the approval of the planning application, Huw said: ''We are delighted to have secured planning permission for such an important scheme for both Wiltshire College and Chippenham.
''We established a good working relationship with officers at Wiltshire Council and I thank them for their proactive approach to this application.
''This will be a landmark project for the town, greatly enhancing the setting of the area whilst also providing a significantly improved educational offer.''
Building work is due to take around 16 months to complete with the world class facilities opening to students in September 2015.
There's an Open Evening at the Chippenham campus on Wednesday, March, 26, from 6-7.30pm.