WILTSHIRE: Police recruit PCSOs
13 February 2014, 11:14 | Updated: 13 February 2014, 11:27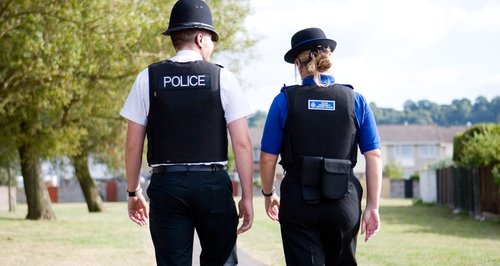 For the first time since 2011, Wiltshire Police are recruiting for Police Community Support Officers (PCSOs).
Wiltshire Police are now recruiting for Police Community Support Officers (PCSOs). 


It is the first time since 2011 that the force has recruited PCSOs.
Since then natural turnover has resulted in PCSO numbers dropping below the minimum requirement. Applications will be open from today (February 13th) and will allow people to apply at any time within that period. The closing date for applications is Tuesday 25th February at 5pm. 


Chief Constable, Pat Geenty, said: "I am delighted that we are in a position to recruit additional Police Community Support Officers. PCSOs provide essential support to police officers and make a real difference to local communities."


Police and Crime Commissioner for Wiltshire and Swindon, Angus Macpherson, said: "Police Community Support Officers (PCSOs) are an important part of the police family, being a proactive, visible link between the force and local neighbourhoods alongside their neighbourhood police officer colleagues. 

"We are also particularly encouraging applications from minority ethnic communities, as they are presently under-represented within Wiltshire Police." 


PCSOs do not have the same powers as a police officer and their duties would not include arrests or investigating serious crimes.
Here are some more details from Wiltshire Police:
To be successful in this role, you must;


• Be confident and approachable

• Have good communication skills 

• Have the ability to work on your own, or as part of a team 

• Possess good problem solving skills

• Demonstrate a flexible working approach 

• Previous experience of dealing with the public and providing a high level of service is essential

• Have a good standard of health

• Have a full driving licence on appointment.
All applications should also be aware that;


• There are no minimum or maximum height requirements

• There is no formal educational requirement

• Only applications from British citizens, EC/EEA nationals, Commonwealth citizens, or foreign nationals with indefinite leave to remain in the UK will be accepted 

• A number of convictions will mean a definite or likely rejection of your application, including anyone who has received a formal caution in the last five years, committed a violent crime or public order offence

• You must be physically and mentally able to undertake police duties

• You will need to complete a medical history questionnaire and undergo an eyesight test satisfactorily before your appointment can be confirmed

• Some tattoos (whether visible or not) and facial piercings might be unacceptable. 


For more on the Wiltshire Police website click HERE


Please do not call 101 for information about the recruitment process.