Wiltshire: Potholes To Be Filled In After Floods
20 January 2014, 14:16 | Updated: 20 January 2014, 14:21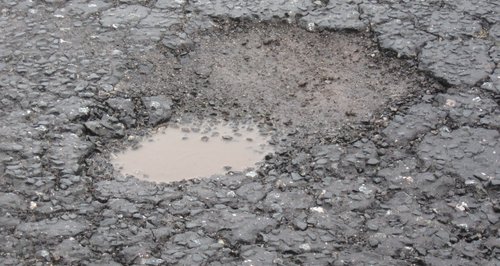 Early reports indicate the recent flooding has caused at least £2 million of damage to the Wiltshire's roads.
Wiltshire Council is investing an extra £250,000, in addition to the £52 million increase in road spending announced in November 2013, to repair potholes before forecast colder weather sets in.
Four teams of two-person pothole hit-squads are filling the worst of the damage caused or made worse by the heavy rainfall of the last few weeks.
Armed with supplies of water-based road repair material, which can be used even where potholes are still full of water, the teams from the council's highways maintenance contractor Balfour Beatty Living Places (BBLP) are targeting damage that can be repaired quickly without the need to close roads.
Information on potholes that need filling comes from members of the public, via the MyWiltshire app, social media, email and phone calls to the council on 0300 456 0105, as well as internally from the council's area teams around the county.
John Thomson, cabinet member for highways, said:
'The prolonged period of heavy rain and flooding has clearly damaged our road network – estimated at up to £2 million. The risk is that figure will increase rapidly and significantly if a forecast cold spell causes the water still in the potholes to freeze.
'Therefore, we are using the window of opportunity now that the worst of the flooding is abating to redeploy some of those teams to filling potholes, with the priority on those where there is a clear safety issue to road users.'
The extra £250,000 is likely to see the pothole hit-squads in action for the next two or three months. The money is in addition to the £52 million increase in road spending announced in November last year that will see 150 miles of the county's roads resurfaced every year for the next six years.
John Thomson added:
'Getting teams out repairing damage caused by the heavy rain is clearly a sensible thing to do in the short-term. However, the best way to reduce potholes and other damage to our roads is through long-term investment and that is why we as a council are spending that additional £52 million over the next six years to ensure Wiltshire's roads are not just maintained but improved.'
Over the past two weeks, Wiltshire Council has dealt with more than 1,000 flooding-related incidents across the county.