Salisbury Plain: Reservists Take Part In Big Exercise
9 March 2014, 07:08 | Updated: 9 March 2014, 07:09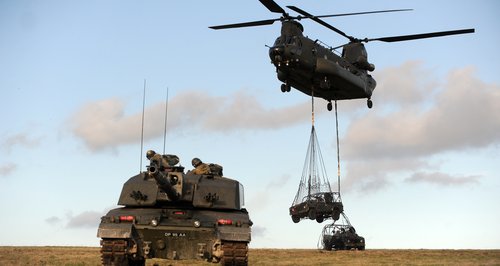 Army Reservists have spent the weekend taking part in a major exercise on Salisbury Plain.
Civilians volunteers, from the Royal Wessex Yeomanry (RWxY), got behind the controls of the Challenger 2 Main Battle Tank, which is one of the most sophisticated and complex Armoured Fighting Vehicles in the World.
The troops, who spend the working week as mechanics, carpenters and accountants, also worked with the the most powerful helicopter in the RAF's fleet during an intense weekend training mission called Exercise Spring Warrior.
The unit teamed up with Regular soldiers from The Royal Tank Regiment and personnel from the RAF to coordinate the delivery of their new Wolf Scout Land Rovers by air with the vehicles under-slung from the giant Chinook aircraft.
For many it was the first time that they will have worked with the RAF in this way, helping to prepare them to do it for real whilst deployed on operations in support of the Regular Army.