Wiltshire: Two Abnormal Loads On Our Roads
3 December 2013, 08:45 | Updated: 3 December 2013, 08:47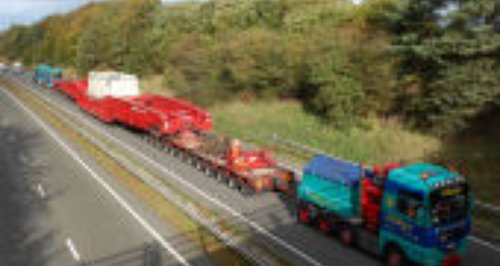 Police are warning drivers to look out for two abnormal loads on Wiltshire's roads on Wednesday.
Two specialised load transporters will be escorted by Wiltshire Police from the A303 near Andover to Whatley Quarry, near Frome.
The transporter and its load will measure 5.60 metres (18ft-05ins) wide, 4.87 m (16ft-00ins) high with an overall length of 28.1 m (92 ft) and gross weight of 115 tonnes.
Due to the size of these transporters they will be slow moving and will have the potential to create congestion. Wherever possible disruption will be kept to a minimum but hauliers and motorists are asked to please be patient if they come across these loads.
Anyone travelling over this period to catch a flight or meet appointments should allow sufficient additional time. Regular updates and travel information in respect of this abnormal load will be passed from the police control room at Devizes when appropriate to help motorists plan their journey.
The journey will begin at 11am from the A303 at Andover, where the loads will be transported in convoy.
The transporter will travel Westbound on the A303 carriageway, then turn right onto the A36 Northbound – A361 to the site.
Police escorting resources are being provided by volunteer Police Officers on rest days, paid for by the haulier at no cost to the public.