Gun Amnesty In South Yorkshire
10 November 2014, 12:18 | Updated: 10 November 2014, 12:32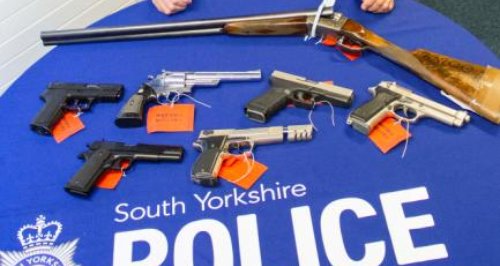 A countywide firearms amnesty has today been launched by South Yorkshire Police in a bid to remove illegal guns from the streets and keep them from falling into the wrong hands.
Anyone who chooses to surrender a gun or ammunition during the 12-day amnesty will not be prosecuted for possession, even if the weapon is illegally owned.
The amnesty will run from today until 11.59pm on Friday, 21 November.
DCI Zaf Ali leading on the Force's amnesty is urging people to bring in any unwanted or illegal firearms:
'Gun crime in South Yorkshire is relatively low and accounts for only 0.2% percent of all crime in the county, but as far as I am concerned we need this figure to be non-existent to keep our streets safe.
'The amnesty provides an opportunity for people who hold an illegal firearm to dispose of it safely and quickly with no fear of being prosecuted for possession of the weapon.
'It also offers people the chance to safely dispose of a firearm if it's been passed down as a family heirloom and is no longer wanted.'
While the amnesty provides immunity at the time of surrendering the firearm, if the weapon is found to have been used in previous criminal activity, it will be investigated by police and there could be potential prosecutions.
New legislation has also been introduced in July this year regarding the ownership of antique guns; if you have been convicted and received a sentence, even a suspended sentence, of three months or more, there are now implications for possession of an antique firearm.
DCI Ali continued:
'Any firearm can be handed in during the amnesty, including but not limited to, air weapons, BB guns, handguns, antique firearms, component parts, ammunition and imitation firearms will all be accepted.
'I would encourage people to take advantage of the amnesty and hand in any gun or ammunition that is unwanted or illegally owned; every gun given up is one less that can end up in potential criminal circulation.'
All firearms should be brought in to one of the six police stations that have a public enquiry desk; Snig Hill, Moss Way and Ecclesfield in Sheffield, College Road in Doncaster, Churchfields in Barnsley and Main Street in Rotherham. Please check the opening times of each station at www.southyorkshire.police.uk
For further information regarding the amnesty, please call 101.