Man Injured In Tingley Explosion
28 May 2014, 13:20 | Updated: 28 May 2014, 18:01
A man has suffered burns to his arms after an explosion at a house in Tingley near Leeds.
Crews from West Yorkshire Fire and Rescue Service were called to the property in Tingley following the blast at 9.29am on Wednesday.
West Yorkshire Police say they have arrested a 46 year old man on suspicion of arson. They think the fire and explosion at the property was suspicious.
A spokeswoman for the service said: "We have three engines in attendance from Morley, Rothwell and Wakefield as well as the Technical Rescue Unit and support from Dewsbury."
The fire service said a man who was injured walked out of the house and has been taken to hospital after suffering from smoke inhalation and burns to his arms.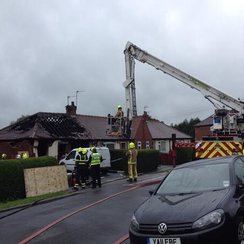 Three neighbouring homes were evacuated after the suspected gas blast and a structural engineer has been called to assess the damage.
The bungalow's roof was blown off in the blast, exposing charred timbers.
Locals reported seeing flames coming through the roof and pictures of the aftermath showed smoke continuing to rise from the property.
One onlooker said: "The bungalow looks a mess and the damage is pretty bad.
"The brickwork has been exposed and the timbers are all charred inside. But we think there's no fatalities."
Police have cordoned off the residential street to allow the emergency services to carry out their work.