Rotherham Council: Children's Services are Inadequate
19 November 2014, 12:29 | Updated: 19 November 2014, 12:30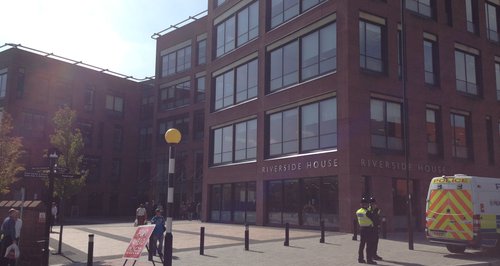 Children's services in Rotherham rocked by widespread child sexual exploitation are 'inadequate' according to Ofsted.
The schools watchdog's report says:
'There are widespread or serious failures that result in children being harmed or at risk of harm.''
Ofsted inspected services in Rotherham a month after the publication of the Jay Report, which found in August that more than 1,400 children had been subjected to sexual exploitation in the South Yorkshire town between 1997 and 2013.
Ofsted said today:
'The overall judgment is that children's services are inadequate.
'In the delivery of services for looked-after children and care leavers these failures result in the welfare of these children not being safeguarded and promoted.
'Leaders and managers have not been able to demonstrate sufficient understanding of failures and have been ineffective in prioritising, challenging and making improvements.'
The report also judged the Local Safeguarding Children Board to be ``inadequte''.
It said:
'The arrangements in place to evaluate the effectiveness of what is done by the authority and board partners to safeguard and promote the welfare of children are inadequate.'
Accepting the findings of the report in their entirety, Leader of the Council, Cllr Paul Lakin, said that they provided the Authority with an independent and authoritative benchmark against which to secure improvement.
He said:
'Keeping children and young people safe remains our highest priority. We are sorry that we have let them down in the past, but we know that apologies simply aren't enough. We are determined and committed to addressing all the issues raised in this report, and must demonstrate that we are doing so, if we are to rebuild trust and confidence in our services. The best way to serve children and young people now is to learn from those mistakes and look to the future.
'The report talks about the importance of strong effective leadership and strong governance, about the need to hear service users' voices and to ensure that the standards against which we will be measure are widely shared, understood and adhered to.
'The appointment of a strong new leadership team – including our newly-appointed Director of Children's Services Ian Thomas – is already helping to secure the change needed to ensure our organisation is fit for purpose. We are seeking to make further interim appointments within Children's Services within the next week."
Jane Parfrement, Director of Safeguarding Children and Families, joined the Council three months ago, and is currently Acting Director of Children's Services pending Mr Thomas arriving full-time in Rotherham in January.
Said Jane:
'I am very clear that given the issues in Rotherham we will not achieve everything overnight, change must be comprehensive and sustainable and this will take time. However immediate action has been taken to ensure our basic child protection systems are strengthened and an improvement plan is being drafted which will be overseen by an Improvement Board to challenge us and ensure we stay on course.
'I am working closely with the Children's Commissioner appointed to work in Rotherham, Malcolm Newsam who is assisting and advising us on the many steps we need to take. Further inspections and reviews – including the ongoing Corporate Governance Inspection and further work announced today by the Communities and Local Government Committee – will support further improvements.
Interim Chief Executive Jan Ormondroyd said that the Authority would take every opportunity offered by external inspections and challenge, which would also act as a catalyst for change within the organisation.
'We anticipate that the report of the corporate governance inspection which is currently underway will provide us with further guidance on how to overhaul our internal systems and practices, and ensure we have a workforce that can deliver excellence.'