South Yorkshire Police Criticised Over Child Protection Report
30 September 2014, 09:15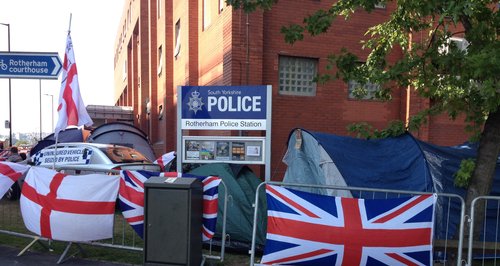 The under-fire police force at the centre of the Rotherham child abuse scandal has faced fresh criticism from inspectors over how well it deals with vulnerable children in care homes.
South Yorkshire Police had 'limited understanding' of the risk posed by offenders who target vulnerable children while officers showed an inconsistent response to child sexual exploitation, Her Majesty's Inspectorate of Constabulary (HMIC) said.
In one case, officers failed to sufficiently protect three girls identified as at risk, who were sexually assaulted by several men and were reported missing from care on several occasions.
Officers were also found by inspectors to have failed to properly tackle men who are sexually exploiting young girls within the force area.
South Yorkshire Police came under heavy fire after Professor Alexis Jay's report revealed at least 1,400 children were abused in Rotherham over 16 years and criticised officers for ''regarding many child victims with contempt''.
Inspector of Constabulary Dru Sharpling said:
'We are concerned that force practice is inconsistent so not all children receive the standard of treatment they deserve.
'We were also concerned about the lack of understanding of the risk posed by offenders who target vulnerable children, and shortcomings in the protection of children in care.'
There were particular shortcomings in care homes in Doncaster, one of four districts covered by the force, inspectors said.
In one case, three young girls had been placed in a children's care home and police and children's social care services identified that they were becoming involved in increasingly risky behaviour.
A meeting took place with partner agencies and all agreed that the three girls needed to be separated immediately, but it took a month for this to happen.
Plans put in place in the meantime did not sufficiently protect the girls, inspectors said.
The girls were reported missing on numerous occasions, they were found drunk and under the influence of drugs, they were arrested several times for offences such as criminal damage and assaulting care home staff, they were sexually assaulted by several men and one was detained in police custody for her ``own protection''.
The report added:
'Although officers knew and were concerned that the girls continued to be at risk of child sexual exploitation, they reported a sense of helplessness and did not escalate their concerns to senior officers.'
However, the report praised the force for undertaking ``prompt and thorough'' inquiries in most cases.
A previous HMIC report said officers in South Yorkshire Police's public protection unit, which deals with rape and serious sexual assault, spend a ''great deal of time'' trying to ''disprove'' the word of victims.
The earlier report said an ''investigate to record'' process was particularly evident in the unit, which also deals with honour-based violence and domestic abuse, adding there was ''a great deal of time spent trying to disprove the word of the victim from the outset''.
South Yorkshire Police welcomed the recommendations of the inspection and said inconsistencies highlighted by the report regarding the force's response to child sexual exploitation were being addressed.
Assistant Chief Constable Ingrid Lee said steps being taken to address the issues included a central referral unit for referrals relating to children, multi-agency teams in every district, a liaison officer to engage with children in care in Doncaster, known sex offenders given polygraph tests and more information about child sex offenders and domestic abuse being shared with the public.
Ms Lee said:
'We understand the complexities of child sexual exploitation and we don't shy away from difficult investigations. All victims receive the highest standards of service possible.
'If we find evidence that appropriate action has not been taken we will ensure that is dealt with properly and robustly.''
'We continually look at different ways to prevent harm to our young people and, where harm does occur, we are relentless and robust in pursuing those responsible. Today, we're absolutely clear on what needs to be done and this report, like the Jay report, recognises the improvements we have made and continue to make.''