Tour De France In Yorkshire
27 May 2014, 12:35 | Updated: 28 May 2014, 13:20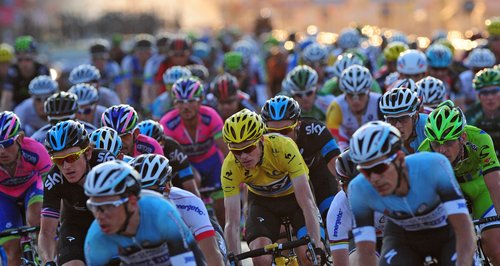 The Tour De France visits Yorkshire on Saturday 5th July and Sunday 6th July. See the route, road closure info and all the latest details about the event here.
When?
Saturday 5th July 2014
Leeds to Harrogate 190KM
Sunday 6
th

July 2014

York to Sheffield 200KM.
The Route
STAGE 1
The 101st running of the Tour de France will begin outside Leeds Town Hall. They will then head into the Yorkshire countryside. They will pass Harewood House before they head to Skipton, gateway to the Yorkshire Dales National Park. They will leave through Leyburn and the cathedral city of Ripon, rejoining the roads to Harrogate.
STAGE 2
The second stage starts in York at Clifford's Tower, it then passes through Harrogate before heading to Huddersfield via Haworth. From here the cyclists will head to the National Park, the Peak District, on the edge of the Pennines. From Holme Moss, one of the toughest climbs in the whole of Great Britain, it' onto the UK's first city of sport Sheffield, before the riders finish at Don Valley Stadium.
Maps
STAGE 1 ROUTE - www.letour.yorkshire.com/stage-1
The first stage races from Leeds to Harrogate via Yorkshire Dales
STAGE 2 ROUTE - www.letour.yorkshire.com/stage-2
The second stage races from York to Sheffield via Pennine Yorkshire.
It finishes in Paris on July 27.
Check out the 'Le Tour Made in Yorkshire' video -
Find out all the best places to view the race at Le Tour Yorkshire.