Wakefield: Bus Stolen
28 July 2014, 13:50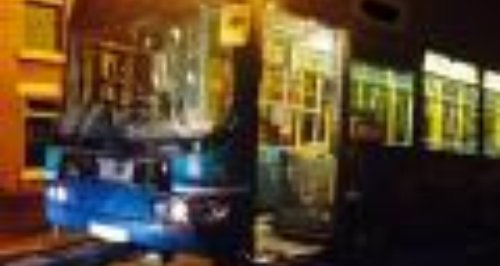 A man has been arrested after a bus was stolen and driven around a city centre on Sunday.
The single-decker DAF Holland bus was reported missing from the Arriva Yorkshire bus depot on Barnsley Road in Wakefield at 9:45pm. The vehicle was spotted by traffic officers who followed it from a safe distance.
Officers deployed specialist equipment to bring it to a safe and controlled stop on Ledger Lane at 10:18pm. The bus had collided with a number of parked vehicles on Ledger Lane, and caused minor damage to a 4x4 police car before it was stopped.
A 34 year old man was arrested at the scene. The bus was removed from Ledger Lane and taken back to the depot.
Inspector Ian Williams from Wakefield Central NPT said:
'Our officers spotted the bus very quickly after it was first reported stolen. It was driven at slow speed around Wakefield city centre for a short amount of time until it was successfully brought to a standstill.
'It was driven into a couple of stationary vehicles on the street, but thankfully no-one was hurt. We are appealing to anyone who may have any information about this incident to contact us on 101.'