Human Trafficking Arrests In Huntingdon & St Ives
26 June 2014, 08:51 | Updated: 26 June 2014, 12:34
Eleven people have been arrested following a series of police raids in Huntingdon and St Ives today (Thursday).
A number of suspected victims of trafficking were also discovered and have been taken to a reception centre.

Search warrants under the Asylum and Immigration Act were carried out at about 5am at four properties in Huntingdon and one in St Ives.

Eight people were arrested on suspicion of human trafficking offences, one was wanted for a European Arrest Warrant and two were arrested for miscellaneous offences including drugs possession.

The arrests were made at addresses in Sapley Park, The Whaddons, Sallowbush Road and Thongsley in Huntingdon and Keln Leas, St Ives.

Suspected victims were found at two of the properties in Huntingdon.

The operation has also involved the Border Force, Huntingdonshire District Council, the Gangmasters Licensing Authority (GLA), Cambridgeshire Fire and Rescue Service and the British Red Cross.

The eight people arrested on suspicion of human trafficking offences have been taken to Huntingdon Police Station.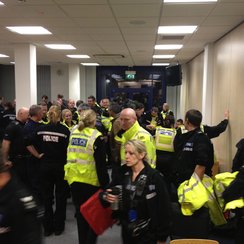 The remaining three have been taken to Parkside Police Station.

Detective Inspector Leigh Allman, crime manager for Huntingdonshire district, said: "We are committed to working with partner agencies to tackle the exploitation and trafficking of workers in the Huntingdonshire area and targeting those who gain from others' suffering.
Victims are promised a better life in the UK with well-paid work but often end up in over-crowded accommodation, on very low wages and with someone else controlling their affairs.
Victims are often too frightened to come forward and reluctant to seek help from authorities.
However, I would urge anyone who feels they are being exploited or has any concerns about individual workers to contact police."
Major Anne Read, The Salvation Army's Anti-Trafficking Response Co-ordinator, said: "The Salvation Army is working with Cambridgeshire Police to rescue and support potential victims of trafficking.
It is vital that victims of trafficking receive immediate access to specialised support.
Our team has been working to assess the needs of the victims and ensure that they have access to accommodation and support at safe houses if needed.
The Salvation Army operates a Government contract to provide vital help and support to adult victims of this pitiless exploitation which gives them the very best chance to try and recover through the comprehensive specialised services we can offer working with our partners."