Body Found During Huntingdon River Search
Police have confirmed a body has been found, in the search for a missing teenager in the Great Ouse in Huntingdon.
Police have released the following statement this morning, "Following searches of the river at Hartford, a body was recovered shortly after 2am this morning.
"The death is not being treated as suspicious and will be passed to the coroner."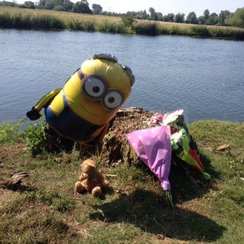 (Picutre: Tributes being left at the riverside in Hartford)
Emergency services were called at 3.40pm yesterday to Church Lane in Hartford.

Members of the public had said they had seen the boy go into the water, and get into trouble, and then he didn't resurface.
At the height of the search yesterday, 20 police officers were on scene along with Spartan Search and Rescue, five fire engines and ambulance crews too.