Burst Water Main At Addenbrooke's Hospital
14 October 2014, 07:21 | Updated: 14 October 2014, 08:13
Traffic is being diverted from the main entrance at Addenbrooke's Hospital today (Tuesday 14 October) following a burst water main.
The six inch main burst between 4am and 5am on the roundabout at Hills Road. Surface damage to the road is preventing vehicles using the main entrance, and instead they are being diverted to the Robinson Way entrance off Long Road. Ambulances going to Accident and Emergency have been informed and will be allowed through the entrance in an emergency.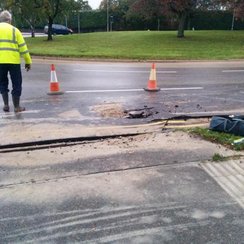 A spokesman for Cambridge Water said: "We would like to apologise to everyone trying to access the hospital or use Hills Road. We are working to get the road surface repaired as quickly as possible."

Traffic management is in place and the water company is working closely with the police and Addenbrooke's Hospital to manage the situation. At this stage work to repair the road surface is expected to affect traffic until tomorrow morning (Wednesday 15 October).

No properties are without water as a result of the burst.