Cambridge Animal Charity Desperate To Find Cats A Home
12 November 2014, 06:42 | Updated: 12 November 2014, 06:46
An animal charity in Cambridge are desperate to find two cats a new home in time for Christmas.
Sooty and Tinkerbell have been at the Blue Cross for more than 200 days.

That's seven times longer than the average stay for cats there.

They've been there since April, when their owner was evicted.
Tinkerbell's profile on the Blue Cross website says, "Hello, I'm Tinkerbell and I'm thirteen years old and looking for a somewhere with my sister Sooty.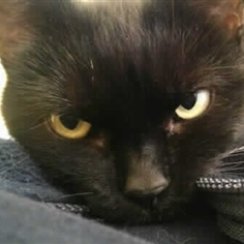 "We had never been in a cattery before but have settled well here and are ready to find a new home now.

"I love to sit on peoples laps and get lots of fuss from my new friends. I also really enjoy being groomed and the tasty treats that I get. My sister can be a little bossy at times and doesn't like it if I want to share her bed.

"I have never lived with children before but I wouldn't mind meeting some to see what they are like. If I liked them then I'm sure I could share my home with them and I could live with a well mannered cat too."