Cambs Braces For More Rain On Sunday
10 August 2014, 11:15 | Updated: 10 August 2014, 11:22
Cambridgeshire has been told to prepare for some pretty wild weather today as the remaining elements of Hurricane Bertha - which previously hit in the Caribbean islands - are expected to bring bad weather to much of the UK.
Winds could reach 60mph in some places today with the Met Office issuing a yellow weather warning and emergency services in Cambridgeshire on standby for the possiblity of more flooding; especially as the county is only just recovering from Friday's flash-floods.

South Cambridgeshire Council say they have delivered 720 sandbags to support residents but say they are having to prioritise and want residents to take action themselves if they can.

Cambridgeshire County Council don't issue sandbags.
This picture was taken by @GazzaReed at the Boulevard Retail Park in Peterborough:-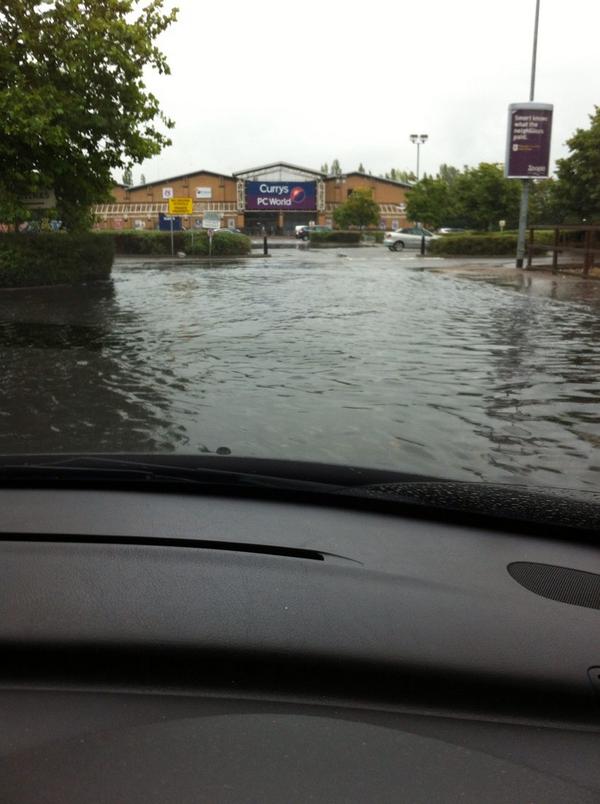 This morning (Sunday), Cambridgeshire Fire & Rescue say they still have three crews and the high volume pump working in March. So far this morning the weather has not caused significant calls to ther control room. However, with periods of heavy rain expected throughout today the fire service want to remind residents and motorists of the following advice:


Take extra care on the roads and drive for the conditions

If flood water enters your property, turn off the electrics

Please do not contact emergency services for sandbags as they do not have stocks.

Please do not allow children to play in floodwater as it may be contaminated

Assistant Chief Fire Officer Neil Newberry said: "We would like to remind residents that while we will do all we can to help those most at risk, we can only pump water out of properties when there is somewhere else for it to go that will not endanger other properties or infrastructure.

The past 30 hours have been a testing time for the crews and control staff who are working tirelessly, but we are still having to prioritise those incidents where there is an immediate risk to life.

We must remember that while we want to help as many people as possible, we must ensure the fire service has resilience to answer normal emergency calls to fires and road traffic collisions."