Dog Shot With Crossbow At Wansford
23 October 2014, 12:09 | Updated: 23 October 2014, 12:13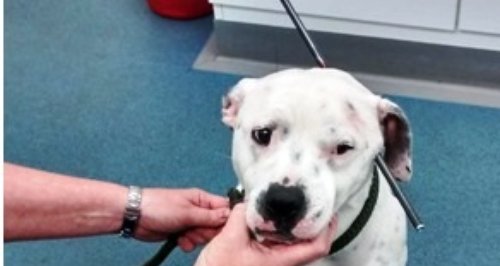 The RSPCA is investigating after a dog was found with a crossbow bolt through his skull near Peterborough.
Ziggy, a white and black male, two-year-old Staffy, was found in a very remote piece of woodland near Wansford yesterday morning.
The 20 inch carbon fibre weapon was sticking into one side of his head and out the other side.
He was spotted by two passers-by as they drove down the rural road, and they took him straight to a vet, who then called the RSPCA.
The vet operated on him immediately and removed the bolt.
They found that very luckily it had deflected off the skull and missed Ziggy's organs by mere millimetres.
RSPCA inspector Justin Stubbs said: "Despite this bolt going straight through Ziggy's head it miraculously missed his brain, ear capsule and eyes - I could not quite believe it.
Whoever did this took a very intentional shot at very close range.
I think they must have been aiming at the back of the head and Ziggy must have moved at just the right distance right at the last minute.
I don't know whether they then took him deep into the wood and dumped him, or had already taken him into the wood and so just left him there, injured.
What we are quite sure about is that poor Ziggy was probably roaming about in the middle of nowhere for a couple of days with this bolt stuck in his head.
He would have been terrified, and in complete agony.
It really broke my heart this one.
What really got me was the way Ziggy sat there, with that bolt through his head, wagging his tail at me in such a good natured way - asking for a bit of a fuss.
It is miraculous that the bolt missed all his organs, but he's not out of the woods yet.
With these kind of nasty wounds infection can be very dangerous and the next couple of days will be key to seeing how he recovers."
Anyone with information is asked to call the RSPCA on 0300 123 8018.