Flooding In March
8 August 2014, 14:59 | Updated: 8 August 2014, 18:08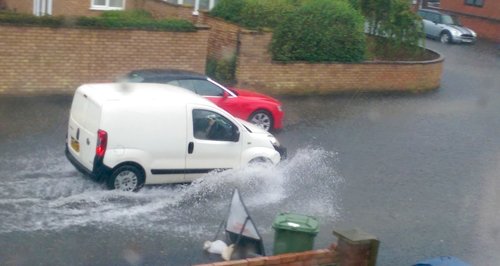 Cambridgeshire Fire Service say they have received around 30 calls reporting flooding in Fenland this afternoon.
The bulk of calls are thought to have been in and around the town of March, with several also thought to have come from Chatteris.
It follows several hours of heavy rain in the district.
Group Commander Ryan Stacey from Cambridgeshire Fire and Rescue Service said: "We have received a high volume of calls in Cambridgeshire this afternoon relating to flooding.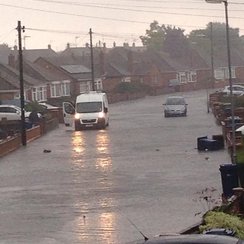 Between 1pm and 5.30pm, Combined Fire Control received more than 115 calls relating to flooding incidents in the county. A majority of these were for the March area.
We are prioritising calls and sending crews and pumping equipment to those who are identified as a risk to life.
We have seven crews currently in the March, Doddington and Wisbech St Mary areas, assisting with evacuating residents, salvaging and pumping water out of homes.
The exact number of properties affected cannot be confirmed but we understand that we are assisting currently at least 60 properties.
If you do not need to visit or pass through this area, then we would ask you to avoid it.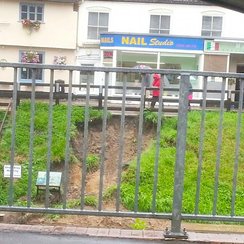 We have also received calls to reports of flooded properties in the areas of Bar Hill, Toft, Oakington, Caldecote, Swavesey and Rampton.
This is a very busy time for all of our staff so once again, please only call 999 if there is an immediate risk to life.
If you think your property is affected by flooding then turn off your electricity supply and prepare to move belongings from the ground floor.
During this kind of weather we would also urge motorists to drive slowly and carefully, and allow extra room to slow down and stop.
Don't try to drive through standing water - as well as the water damaging your car, there may be hazards under the water you can't see.
If you see a sign to say that the road is closed due to flooding, remember that the sign is there for a reason. Don't try to drive through or you might get stuck."
March Power Cuts
Around 850 homes and businesses in March are currently without power in March.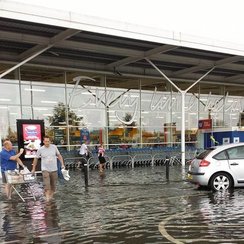 A spokesperson for UK Power Networks said: "UK Power Networks engineers are working hard to restore power to customers in part of March following a fault in one of our substations in the area.
About 853 customers are currently affected by the fault which happened at about 2.45pm today.
We would like to reassure our customers that we are working as quickly as is safely possible to restore their supplies as soon as we can and are currently investigating the cause.
We realise how difficult it can be to be without power and apologise for any inconvenience.
Environment Agency Warning
The Environment Agency has issued a Flood Alert for the Middle Level in the Fens.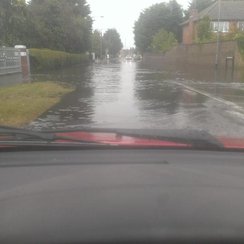 It reads: "Due to heavy rainfall on Friday the 8th of August flooding of low lying land is expected in the Mid Level.
Further rain is expected today and tomorrow, with potentially heavy downpours falling on Sunday the 10th of August.
We will update this message as the situation changes.
Be prepared to protect yourself, family, pets and property.
Call Floodline on 0845 988 1188 for up-to-date flooding information.
Keep an eye on local water levels and weather conditions.
Visit the Environment Agency website for river level and flooding information.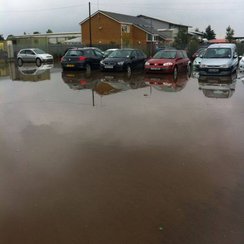 Tune into weather, news and travel bulletins on local television and radio.
Avoid walking, cycling or driving through flood water.
Supermarket Closures
Tesco has confirmed that its superstores in March and Bar Hill are both now closed due to flooding.
Sainsbury's in March was closed for 30 minutes this afternoon, but has since re-opened.