Green Light For Ely Southern Bypass
25 September 2014, 14:55 | Updated: 25 September 2014, 15:01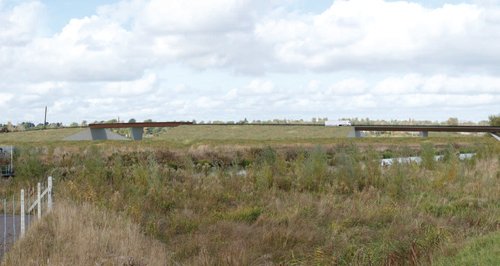 The Local Government Secretary has ruled that planning permission can be given for the £30 million Ely Southern Bypass.
Proposals to build the bypass for Ely had been backed unanimously by Cambridgeshire County Council's Planning Committee this month.
However permission could not be granted for the 1.7km long road, linking Angel Drove to Stuntney Causeway, until the Secretary of State for Communities and Local Government, Eric Pickles MP, decided whether he wanted to determine the plans himself.
This followed concern from English Heritage about the potential environmental impact.
The County Council has now received a letter on his behalf saying that the decision should be made locally.
The Planning Committee granted planning permission subject to the decision made by the Secretary of State after he had issued a so called 'holding decision.'
Cambridgeshire County Council says the formal permission is now due to be granted.
The bypass aims to reduce journey times between A10 and Stuntney Causeway by 56 per cent and reduce delays for motorists leaving the station by 50 per cent at peak times.
Closing the level crossing will also mean more freight can travel by rail.
Cambridgeshire County Councillor Ian Bates, Chairman of the Economy and Environment Committee, said: "This is good news for localism and even better news for Ely which has for years had to put up with this congested and accident blighted crossing.
The new bypass will help boost the local economy and mean that this important station gateway to the City can be improved.
I would like to thank the Secretary of State for listening to local arguments about the importance of this bypass and the need for it to be determined locally.
We will now get on and build this vital road as soon as possible."
'Start Work Now'
East Cambridgeshire District Council is now calling for the work to begin 'as soon as possible'.
Councillor James Palmer, Leader at East Cambridgeshire District Council, said: "This is fantastic news not just for the people of Ely and Soham but for businesses across Cambridgeshire and the whole of the East of England.
By letting local people make decisions about local issues, Eric Pickles is allowing communities who truly understand the problems of their area find the solutions.
The excellent application by the County Council was very comprehensive and demonstrates to me that they are ready to move forward to get this road built to timetable.
We have campaigned long and hard for this much needed piece of infrastructure, as it will have a huge, positive impact on East Cambridgeshire.
Time is now of the essence, with every week that goes by the potential cost of the road will increase.
This is why I hope we can get to work on the ground as soon as possible, to build the road to end the many years of frustration and help our district to grow and prosper."