Huntingdon Parking Warning
21 October 2014, 10:12 | Updated: 21 October 2014, 10:18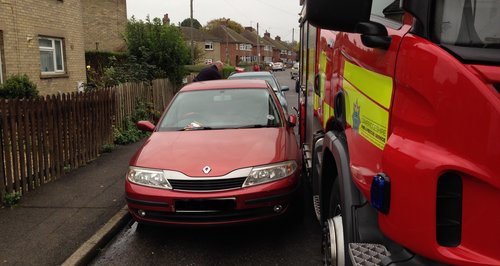 Drivers in Huntingdon are being asked to park more considerately, after a fire engine had difficulty getting through streets in the town.
Firefighters were attempting to carry out community prevention work in an area that had recently experienced a fire when they found their fire engine in a tight spot in The Avenue.
It took the crew about five minutes to safely clear the cars to ensure there was no damage.
The Fire Service says spending these additional minutes manoeuvring their vehicle could have seriously impacted on a response time should they have been attending a 999 emergency.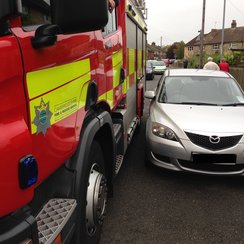 Now, crews are warning motorists – especially those who park in busy side streets to avoid paying car parking fees while shopping or working – to make sure they leave enough room for emergency vehicles to get by.
Watch Commander Eddie Theaker, from blue watch at Huntingdon Fire Station, said: "Inconsiderate parking, leading to problems with access for our fire engines, can be a problem in a number of roads in Huntingdon.
Our crews have historically found getting along The Avenue and other streets in the area, like Cowper Road, a tight squeeze owing to the large number of cars parked on both sides of the road and sometimes also parked on double yellow lines.
This can make it extremely hard and sometimes impossible for emergency vehicles to get through, which could cause a delay in a fire engine getting to an emergency incident.
It is imperative that when drivers park their cars they leave enough room for a fire engine to pass – just remember, we could be trying to get to your home or to rescue you or your family in another emergency."