Military Jet Crashes Near Spalding LATEST
9 October 2014, 12:52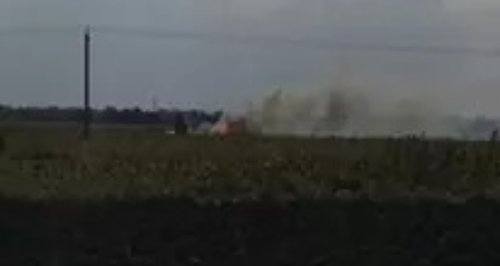 An American military jet, based at RAF Lakenheath, has crashed in Weston Hills, close to Spalding.
The jet came down in a field near Broadgate at around 3:30pm today.
There are no reports of any injuries.
The area is said to be a popular spot for military training.
A spokesperson for Lincolnshire Police said: "Police are currently dealing with an incident near Broadgate, Weston Hills, involving a military aircraft.
Members of the public contacted emergency services around 3.30pm this afternoon to report that they had seen a jet come down in a field.
The plane has come down in an isolated rural area and no premises have been affected.
A cordon has been put in place and the public are advised to avoid the area as the plane is alight and the fumes may be hazardous.
We are unable to confirm at this time the type of aircraft or where it has flown from but the pilot has been located and indications are that he is safe."
Sarah Rawlings, who helps run The Beeches Bed and Breakfast nearby, told Heart: "We heard it, and then we heard sirens.
It's quite rural here; we're quite a way away from everything.
I think the crash has happened around two fields away from us."

Update: 4:45pm.
Lincolnshire Police have tweeted: "The pilot appears to have escaped with very minor injury and has left the scene by helicopter."
Update: 5:10pm.
A spokesman for USAF's 48 Fighter Wing based at RAF Lakenheath in Suffolk confirmed one of its F-15s was involved in the incident during a training exercise.
He added: "The pilot ejected and is safe.''
Any residents who can't get home because of diversions set up following the crash are being asked to go to Weston Hills Village Hall by Lincolnshire Police.
A spokesperson for South Holland District Council added: "A cordon has been put in place and the public are advised to avoid the area as the plane is alight and the fumes may be hazardous."
Update: 5:40pm.
The US Air Force have released the following statement: "An F-15D from the 48th Fighter Wing at Royal Air Force Lakenheath crashed at approximately at 3:28 p.m. today while conducting a combat training mission.
One person was on board the aircraft at the time and ejected safely.
A board of qualified officers will investigate the accident.
Additional details will be provided as soon as they become available."
Update: Thursday 12:510pm.
US Air Force officials have today insisted safety is a top priority after an F-15 fighter jet came down near a school.
A spokesman for 48 Fighter Wing said: "As we enter investigations and our crews arrive on site, we appreciate everyone's understanding and patience. The safety of our neighbours and communities is always top priority. We train to mitigate risk and minimise impact."
A board of USAF officers will prepare a report on how the incident happened.