Peterborough Man Jailed For Plotting To Kill Unborn Baby
12 August 2014, 17:05 | Updated: 12 August 2014, 17:10
A Peterborough man who plotted to have his pregnant mistress beaten up to get rid of their unwanted, unborn child has been jailed.
23 year old Jamie Smith came up with the plan with two friends after learning Jessica Santos, 18, had become pregnant during their affair.
Not wanting the child, he recruited Steven Blades and a third man to carry out a vicious assault with a crowbar and a knife.
Smith, who was in a relationship with another girl, planned to lure the student to a secluded park in Peterborough under the pretence of discussing the pregnancy.
He wanted to make it look like a robbery and also intended to be injured during the attack.
The knife would be used to threaten him and the woman before both were assaulted.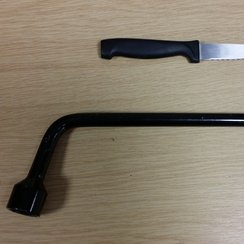 However his plot was foiled when the third man refused to get involved and alerted police.
Officers quickly intervened and Smith and Blades were arrested on the day the attack was set to take place - February 21.
Smith, from Stanground in Peterborough, was charged with conspiring to cause grievous bodily harm and tried to claim others had hatched the plan.
He was unanimously convicted after a five-day trial at Peterborough Crown Court and jailed for seven years yesterday.
Blades, from Wells Court in Peterborough, admitted the same charge and was jailed for 12 months.
Both men were both given a 10 year restraining order against the victim by Judge Sean Enright.
Outside court Miss Santos - who is now eight months pregnant - said: "Part of me wants to believe that he was put up to this by someone, but deep down I know that is not the case.
It hurts a lot to know that someone I felt so close to could plan this behind my back, yet so still be so nice to my face.
It's just evil.
Nobody has the right to say whether someone, especially a baby, should live or die.
If Jamie did not want to get involved with the baby he didn't have to and he knew this. This makes what he arranged even harder to understand.
When my child is old enough I will tell them about this and let them decide if they want a relationship with Jamie - until then I will do everything I need to do to protect my child."
After the case Detective Constable Vicky Speirs said: "This was a sickening and extremely dangerous plot to cause a young woman to lose her unborn child.
It is incomprehensible how anyone would want to carry out such a hurtful and violent act.
It was an incredibly selfish act by Smith who gave no thought as to what effect his actions could potentially have on the victim.
Given the level of violence they were prepared to use, we could quite easily have been dealing with a murder.
Thankfully, one of those men recruited by Smith to carry out his dirty work saw sense and contacted the police so we could intervene and prevent such a serious incident taking place."