Power Restored To March Residents
9 August 2014, 06:22 | Updated: 9 August 2014, 13:51
Everyone in March now has their power back on, following yesterday's flooding.
UK Power Networks said in statement, "All bar two customers have now had their electricity supplies restored by our engineers, working in atrocious weather conditions.
"The last large group had power again at 10.43pm. Work will continue into the night to ensure the final two customers have supplies again as quickly and as safely as possible."
Yesterday, March had more rainfall in 24 hours than the area would normally get throughout the whole of August. 68.8mm of rain fell, while the average rainfall for the region in August would normally be 53.6mm.
Cambridgeshire Fire and Rescue say they had more than 100 calls to flooding related incidents yesterday afternoon, most in the March area.
Group Commander Ryan Stacey, CFRS, said, "We have received a high volume of calls in Cambridgeshire relating to flooding.

"Between 1pm and 5.30pm, Combined Fire Control received more than 115 calls relating to flooding incidents in the county. The majority of these were for the March area.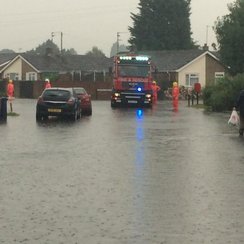 "We are prioritising calls and sending crews and pumping equipment to those who are identified as a risk to life.

"We have seven crews currently in the March, Doddington and Wisbech St Mary areas, assisting with evacuating residents, salvaging and pumping water out of homes. The exact number of properties affected cannot be confirmed but we understand that we are assisting currently at least 60 properties.

"If you do not need to visit or pass through this area, then we would ask you to avoid it.

"We have also received calls to reports of flooded properties in the areas of Bar Hill, Toft, Oakington, Caldecote, Swavesey and Rampton.

"This is a very busy time for all of our staff so once again, please only call 999 if there is an immediate risk to life.

"If you think your property is affected by flooding then turn off your electricity supply and prepare to move belongings from the ground floor.

"During this kind of weather we would also urge motorists to drive slowly and carefully, and allow extra room to slow down and stop.

"Don't try to drive through standing water - as well as the water damaging your car, there may be hazards under the water you can't see. If you see a sign to say that the road is closed due to flooding, remember that the sign is there for a reason. Don't try to drive through or you might get stuck."
This morning Cambridgeshire Fire and Rescue have said, "Three crews and our high volume pump remain in March to assist with the flooding situation. We are receiving calls this morning from some people who have woken up to discover flood water in their homes, particularly in the March and Oakington areas."
No more rain is expected today, but the Met Office have issued a yellow warning for more heavy rain tomorrow.
Forecasters have released this statement, "There is the potential for severe weather over much of the UK during Sunday as a depression tracks over, or close to, the UK. There continues to be a great deal of uncertainty in the forecast but the public should be aware of the risk of flooding due to heavy rain as well as very strong winds and large waves, particularly on the southern side of the depression.

"Given the unseasonable nature of the weather this could be sufficient to disrupt transport and make outdoor activities dangerous.

"This is a particularly volatile situation, and this alert is likely to be updated as the event approaches. The public are advised to keep up to date with the latest forecasts and alerts through the weekend."