Prolific Cambridge Burglar Jailed
26 September 2014, 10:12 | Updated: 26 September 2014, 10:18
A prolific burglar has been jailed after being caught on CCTV breaking into a home in Cambridge.
Jason Turner was captured on CCTV as he raided the house in Shaftesbury Road at 10.45am on September 9.

He grabbed some silver antiques before fleeing after the alarms were triggered.

However, officers recognised him from the footage and he was arrested two days later.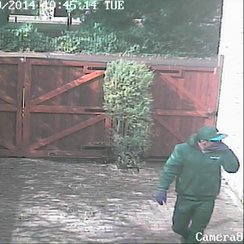 Turner, 25, of Wulfstan Way, Cambridge, pleaded guilty to burglary at Cambridge Crown Court on Friday (September 19).

He was sentenced to two years and five months in prison.

It was his fourth burglary conviction.

Detective Constable Andrew McKeane said: "Turner is a prolific offender and we're pleased to have been able to bring him to justice so quickly.

"This case should serve as a warning that burglary will not be tolerated and offenders face a stretch behind bars."