Cambridge Tour de France Essential Info
27 June 2014, 09:20 | Updated: 2 July 2014, 09:27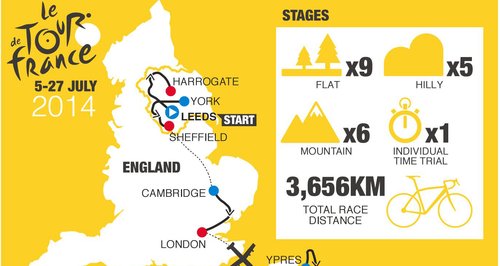 Find out all you need to know about road closures, car parking, bus services and bin collections on Monday 7th July.
The Race
Beginning on Gonville Place by Parker's Piece at 12:15pm, the peloton will ride through the historic city centre via Regent Street and Sidney Street before turning left at the Round Church.
The riders will then travel past the world famous colleges of St Johns, Trinity and Kings as they cycle along Kings Parade and Trumpington Street before leaving the city via Trumpington Road.
The peloton will then race through the rest of Cambridgeshire via the A1301 taking in the beautiful villages in the south of the county including Trumpington, Great Shelford and Hinxton.
The Tour will then leave Cambridgeshire traveling on to Saffron Walden and through Essex towards London to finish on The Mall in front of Buckingham Palace.
Across the county, the message to prepare has been issued through a variety of means such as the distribution of more than 60,000 leaflets, advice on Variable Messaging boards across the county's road networks and business briefings in addition to posters, banners and information hubs visited by hundreds of people.
Where To Watch The Race
Parker's Piece Cycling Village - A view of the start line, with a big screen showing the race.
City Centre Pavements - To watch the first stages of the race. Areas including Trinity Street and King's Parade are expected to be particularly busy.
Trumpington / South Cambridge / Hinxton / Saffron Walden - Spectators can gather behind barriers along any point of the route to watch riders speed past.
Click here to find out exactly when the riders are expected to pass through each area.
Road Closures
Several roads in and around central Cambridge will be closed for the race, with some closures starting from the day before.
Click here to get exact details of road closures.
Highways Agency Advice.
Highways Agency Emergency Planning Manager, Nigel Allsopp, said: "As the excitement builds for the Tour de France we're reminding road users to plan ahead.
Choose in advance where you want to watch the race from and plan your journey.
Check our traffic and travel information channels, set off early and allow plenty of time.
We have two road closures in place due to the route passing through our network, but these will be clearly signposted and additional Highways Agency response teams will be available on the network.
Drivers should be aware junctions 7 to 13 on the M11 are expected to be busy and delays are likely.
Our aim is to keep the Highways Agency network running whilst keeping road users safe and informed.
There may be a need for further closures on the day to prevent traffic from stacking on the county roads but we will closely monitor this situation."
There are two planned closures on the Highways Agency network which will take place from 6am on Monday, July 7:
Junction 9a of the M11 northbound, both slip roads. Drivers will be directed onto the M11 southbound and exit at junction 8, but motorists should be aware that from junctions 10 to 13 congestion is likely due to local road closures and event traffic.
A11 Stumps Cross southbound, both slip roads. Non-motorway traffic will be directed to use the A1307.
Bus Changes
Buses travelling in and out of Cambridge will be diverted, with stops altered due to road closures.
Click here to get detailed information about changes to bus services on Monday 7th July.
Changes To Rail Travel
First Capital Connect will be running additional services and longer trains to and from Cambridge on Monday 7th July.

Click here to get more details about rail travel into Cambridge on the day.
Car Park Closures
Opening hours at Cambridge's city centre car parks will be altered during the Tour de France.

Click here to get the latest information about how car park opening times will be affected.

The County Council says vehicles left parked on the race route will be removed.
School Closures
A number of schools in and around Cambridge have notified Cambridgeshire County Council that they will be fully or partially closed during the Tour de France, due to road closures.
Click here to view the latest list of school closures in Cambridge due to the Tour de France.
Access To Addenbrooke's Hospital
Addenbrooke's Hospital in Cambridge will remain open as usual during the race.
However, road closures will be in place around the area.
Click here to visit the Addenbrooke's Hospital website for more information.
Changes To Bin Collections
Blue, green and black bins due to be collected on Monday 7 July in South Cambridgeshire villages will be collected two days earlier than normal, on Saturday 5 July, due to road closures for the Tour de France visit.
This will affect the following villages:
Babraham
Balsham
Little Abington
Great Abington
Little Shelford
Great Shelford
Harston
Hauxton
Hildersham
Hinxton
Ickleton
Pampisford
Stapleford
Bartlow
Castle Camps
Horseheath
Linton
Sawston
Shudy Camps
Collections will return to their regular pattern the following week - Monday 14 July.
'A Day To Remember'
Councillor Richard Johnson, Executive Councillor for Community, Arts & Recreation at Cambridge City Council, said: "I have spoken to many people over the last few months who are excited to witness the passion, colour and atmosphere of the Tour de France in a city which has cycling in its DNA.
However, we fear people may miss out if they fail to plan where they intend to watch the race and perhaps more importantly how they will get there.
So whether it is finding the perfect spot to watch the race or making sure you can get to work – if you consult our websites and follow our social media you will be able to find all the most up to date information."